New to BamCMS, or even an early BamCMS user? Why should you upgrade to the latest BamCMS. Keeping up with technology can be hard sometimes and often to the point of overwhelming but in this fast growing and ever changing industry it's really important. In the last 8 years in the industry I personally have seen massive changes in the way websites look/behave and function. Sites I built when I started would not be relevant now and especially wouldn't be tablet or mobile friendly in which majority of users interact with your website.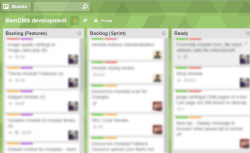 BamCMS 2.6 has been a big focus for us in the last 6 months adding hundreds of new features, even small ones, to give our clients the opportunity to excel in their markets. All of our websites are highly optimised for tablets and mobile devices, are widely accessible (for users with motor or slight impairments) and are easy to create/maintain many areas across the site.
From a development perspective we've improved our processes to save on the common and tedious tasks so that we can spend more time building and tweaking the site to suit your needs. Our library of installable modules and website elements has grown exponentially in the last 2 major versions and each with their own features being reviewed to keep up with industry trends and the way our clients, and more specifically their users, are using their websites.
Want to find out more about some of the new features, modules and elements? Or even just get the feel and flavour of a website built in BamCMS, jump on over to our BamCMS demonstration website. Or contact us to discuss how BamCMS is the right move for your business.