Happy New Year! With 2015 upon us, it's a great time to create some goals for your business, and as such, we've created a list of 10 goals you should consider as part of your new year digital marketing plan.
We encourage you to steal (we mean, borrow) any of the following for inclusion in your 2015 plans.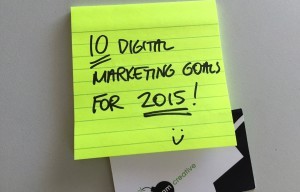 Make your website responsive
Are you aware that more than 1 in 5 website visitors in Australia are likely to be on a mobile device? If your website isn't mobile optimised, you are potentially losing more than 20% of your audience. Don't delay a moment longer; consider redesigning your website to be responsive to most common devices.
Related: Are you turning away 43% of your business?
Create (or overhaul) your email marketing
Email is still a very popular form of marketing. Look at building your list, improving your content and optimising your email marketing to create better engagement and conversions.
Related: Make email marketing work with split testing
Set aside time every month to change your website
Google has stated that a big part of what they look for now is 'freshness' It's not just search engines either; visitors tend to return to websites that frequently update. Set a calendar reminder to make changes to your website content every month or fortnight, and stay ahead of the game.
Related: Improve your digital marketing one hour at a time
Start a social media plan
Your organisation is no doubt on social media, but do you have a plan of attack? How do you build engagement and keep from sounding repetitive or boring? Create a social media plan outlining topics and tone. Look at new platforms as well; do you have a presence on LinkedIn, Twitter, Facebook, Pinterest, YouTube and Instagram?
Related: Why outsource your social media?
Trial (or overhaul) pay per click advertising
If you've yet to dip your toes into PPC, don't delay! There are great returns to be had with this very popular (and cost effective, if done right!) form of advertising. There's a reason companies spend billions per year on pay per click. Don't lose potential customers to your forward-thinking competitors already spending on pay per click.
Related: Subtle changes can work
Promote your website far and wide
It's great to promote your website online, however have you looked at how your driving traffic from offline? Make sure you have your website address on your stationery, email signatures, signage, vehicles, phone messaging and anywhere else your logo appears. Every single mention of your URL can help drive traffic to you.
Related: Ways to promote your new website
Increase your search engine optimisation efforts
It's a fact that the biggest source of website traffic is from search engines. The difference in revenue and business enquiries from being on page one to page 28 is absolutely massive. Having SEO (search engine optimisation) means increasing your position on Google and other search engines, to work your way to the top of the list.
Related:Ethical SEO: what is it?
Overhaul your email signature
Email signatures are an oft-overlooked method of promotion. Consider adding links to your main website pages, to your most recent articles or blog posts, and to your social media accounts. Be wise and succinct though; nobody wants to receive an email signature that is too wordy.
Try out (or overhaul) your remarketing campaign
Imagine being able to target previous visitors to your website? Well, with remarketing you cn! This advertising area is getting more advanced every month. Say you have visitors hit a particular product page; now you can show them advertising weeks later for that product, making it very pertinent to your audience.
Related: What is remarketing?
Learn more about digital marketing
Never stop learning more about digital marketing. There are literally thousands of great blogs and resources online to keep up with the latest. Being biased, we highly recommend keeping an eye on this blog, as well as connecting with us on LinkedIn, Facebook and Twitter.
Good luck with your year ahead! Remember we're here to help on all of the above and more. Get in touch with us today to see how we can help propel your brand into your prospective customers during 2015 and beyond.