Search engine optimisation is nothing like it used to be just a few years ago. Gone are the days of SEO cowboys stuffing random keywords into your metadata and successfully pushing it up the rankings.
Changes to Google's search algorithms and everyday users becoming more content savvy has made it more difficult than ever to gain traction for your ideal keywords but SEO experts have discovered a new technique to increase traffic and conversions in the form of "longtail keywords."
In this article we will cover what are longtail keywords, why do we use them, who uses them and most importantly, how you can use them to improve your website's success.
What are longtail keywords and why do we use them?
Keywords are the foundation of any website; and we depend on our website's visibility on search engines in organic search results because keywords help give our website an identity to Google. Think that every topic, heading and/or page essentially links back to a keyword, or group of keywords. They (keywords) are located almost everywhere - including a websites' content, email newsletters, PPC advertisements and even those annoying popup ads we see.
Long tail keywords are three or more phrases that, when put together, are very specific to whatever product, service or information you are offering. They typically serve the purpose of ranking for less competitive keywords; drawing minimal attention to your website; while laying the foundation for higher competitive keywords over time.
Highly specific phrases tend to be easier to gain rankings for, and can be uniquely tailored to your business.
Highly specific phrases tend to be easier to gain rankings for, and can be uniquely tailored to your business. This ideology can be used to generate thousands of organic searches in a year for even some of the most competitive industries.
Unlike traditional keywords, long tail phrases don't have to follow within the typical meta data structure, and while there are no official guidelines to writing optimised content; the following formula can help determine long tail keywords as a starting point for any strategy.
Adjective --> Verb --> Noun

Best (adjective) Running (verb) Shoes for Rocks (noun)
So in layman's terms, ranking on the first page of google for the term "keywords" is virtually impossible. Problem is that there are 735,000,000 pages indexed for this word found in Google.
However, by going after a much longer phrase "advantages of long tail keywords" there are only 257,000 pages indexed. Therefore, the probability of ranking on page 01 is much higher. While long tail phrases typically have a low search volume, they have the potential to drive high sales, conversions, leads etc
Long tail keywords are rooted in the user intent. They are the most desirable option because they are low competition, cheaper and suggest the searcher is close to making a sale.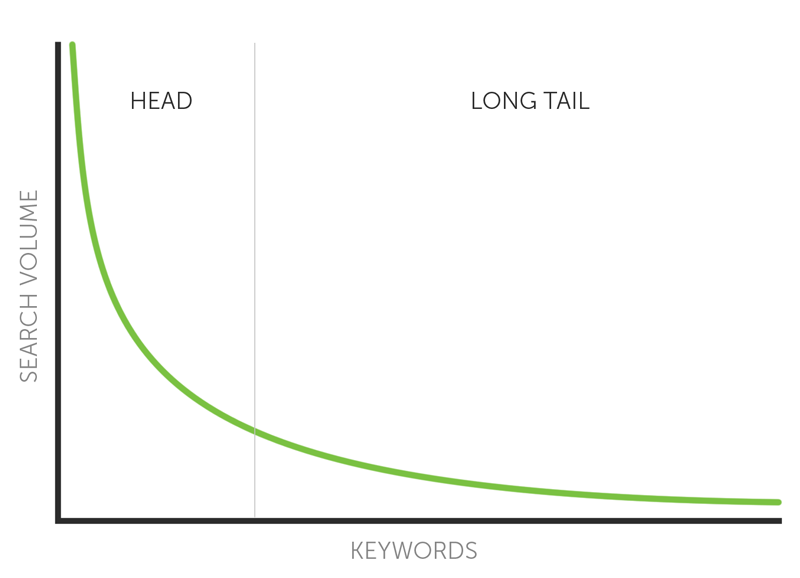 Who uses longtail keywords?
People who know exactly what they want to find online. They are geared toward those people that are considered to have passed the 'post research' phase. So when a customer has made the decision to buy something - then that person will start using very specific search phrases. This is where longtail keywords come into play.
Example: Shoes vs Blue LED Skateboard Shoes
Longtail keywords are very specific, easier to rank for, and are more likely to convert when compared to very competitive singular phrases.
Benefits of longtail keywords?
Longtail keywords form a crucial part of your marketing mix. They impact the research and buying cycle of a product or service - whether it be online or offline. All keywords (not just the long tail ones) help people find your website. So we need to employ the mindset that all forms of digital marketing (SEO, Social Media, Adwords etc) are not additional costs to your business, but are an investment.
All forms of digital marketing are not additional costs to your business, but are an investment.
Long tail keywords only form part of a small amount of searches, but could also potentially form part of your biggest inbound leads as they have a much higher probability of conversion.
Some key take aways for long tail keywords are specifically:
Long tail keywords help people find your website.
Long tail keywords attract relevant traffic with high conversion potential
They are very specific
Have a much higher conversion rate
Can include product and/or brand names
Require less SEO effort for ranking much higher
Less backlinks are required
Are less competitive
Help your website gain authority
Allow you to gain control of a niche term (which helps assist authority)
It's important to remember that SEO is not a cost but an investment.

How to find longtail keywords?
Keyword research is built on the idea of looking at what your competitors are doing, and there are quite a few modern tools that are able to provide accurate examples for the longtail keywords we should be targeting. Some infamous easy to use tools are:
Pro tip: Longtail keywords are best suited to ecommerce websites and/or online stores.
We can also use Google Analytics and Google Webmaster Tools to find the "low hanging fruit".
These are the easy wins in our efforts to gain control of page 01 of Google for specific terms. Since Google searches are encrypted; it is probably best to use Google Webmaster Tools for this one.
Open Webmaster Tools and navigate to your verified website. In the left hand search console column:
Click

Search Traffic

Navigate to Search Analytics
Find the main Queries column and click to show 500 Rows
Download the table to get an exported list of all the keywords drawing traffic to your site.
Dumping your newly discovered longtail keywords into a ranking tracker tool such as SEM Rush will give you a birds eye view of where you rank in Google search results; essentially pulling information about traffic levels, showing page ranking, monthly searches and cost per click - much like Google Adwords.
Longtail keywords form part of our virtual assets on the internet as they are used to grow online presence and business revenue.
Summary
Syntactically, longtail keywords are often not grammatically correct, and will require some creative imagination to fit them into sentences appropriately. Remembering that a website or blog article without keywords is like a car with no wheels - there is nothing to drive traffic to the source. So don't be afraid. Long tail keywords are 100% search engine friendly and can help you drive more quality traffic to your website.