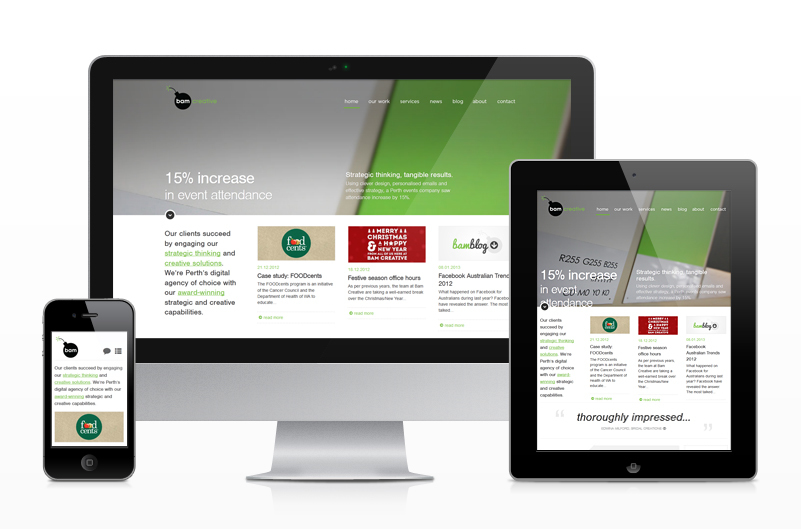 Here at Bam Creative, we've jumped in to 2013, and excited about the year ahead; we hope you are too. Today I wanted to share some insightful statistics.
There were 16,192,000 Australian mobile internet users in June 2012
8153.0 - Internet Activity, Australia, June 2012, Australian Bureau of Statistics, June 2012.
61% of Australian mobile users are unlikely to return to a site that they had trouble accessing from their phone.
Source: Our mobile planet: Australia - understanding the mobile consumer report. Google, May 2012.
According to the ABS, there are 22,865,092 people in Australia. What these statistics from reliable sources above say is that a whopping 71% of Australians surf the web on their mobile devices. 61% of those are unlikely to return to your website if it isn't mobile optimised.
By our rough calculations, that says 43.3% of your target market may not return to your website if it isn't device independent.
All this points to having your website optimised for mobile devices such as phones and tablets shouldn't be a 'nice to have' any more. It's a must have in 2013.
Even a year or two ago, it was fairly standard to have a completely separate mobile website. Nowadays, technology has caught up with this rapid rise in mobile surfing, which means for many clients, you can convert your website to mobile optimised without creating a brand new website.
This means your website will work on the majority of phones and tablets without needing to spend thousands on creating different versions for each. It means when you update your website, it appears across all devices without any extra effort. It means that 43.3% of your target market aren't leaving your website.
This is an exciting time for the web - many experts believe that mobile devices will overtake desktop devices for surfing the web within the next 12 months. The challenge for us is making sure your website is ready for this, and now.
Try visiting the Bam Creative website on your mobile or tablet - see how it renders differently on different devices, and even uses your phone or tablets inbuilt maps and email software?
Now visit your own website - how does it work on these devices? If you believe it could be improved, then you need to fix it, and fast. 43% of your website users won't wait!
A Happy New Year for the year ahead!