Creating an Effective Email Newsletter
Updated 5 August 2020 (Published 27 October 2015) by Miles in Digital Marketing
Done well, email newsletters are a powerful way to market your business to both existing customers and prospects.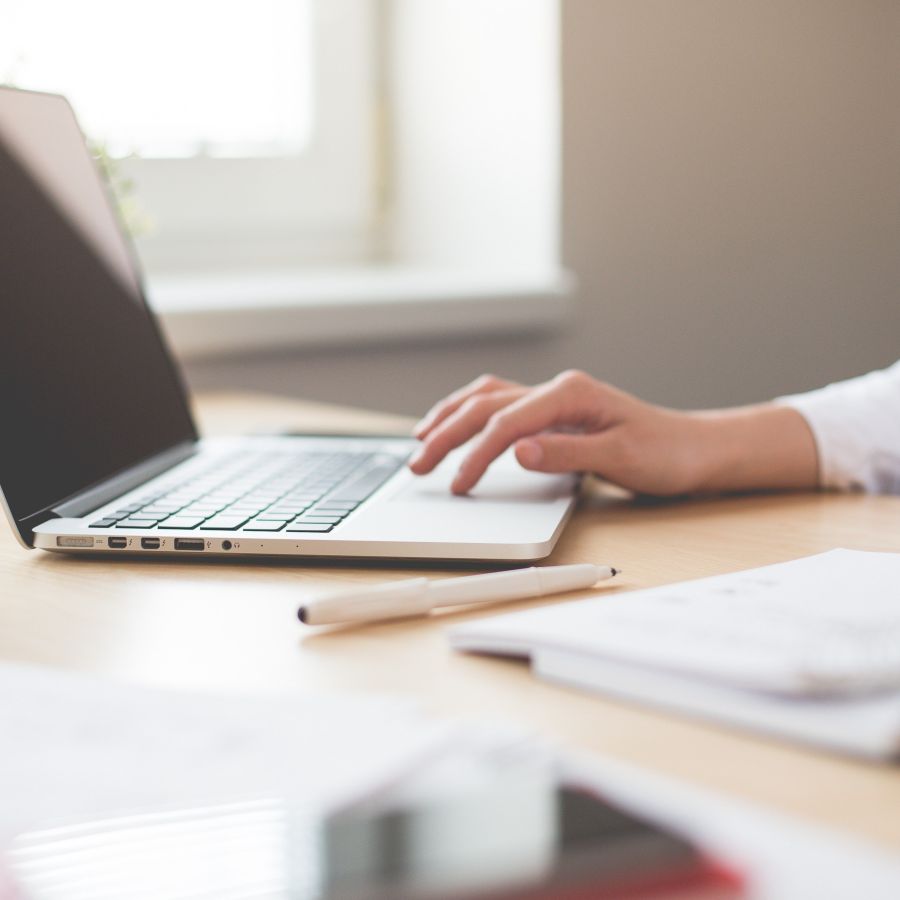 So how do you create great an effective email newsletter and ensure maximum exposure for your business?
Let's walk through how we create our monthly email newsletter.
The monthly Bam Digital newsletter is an effective tool we use to market ourselves, and we regularly receive great feedback about it. In this article, I'll walk through what we think about, and how we constantly review the results.
There are four steps that we use in creating and sending our newsletter. These are;
Design
Content
Delivery
Review
The first step is designing your newsletter, and choosing or creating the right template.
Design
We've been sending an email newsletter for many years now, and have refined the design of it many times over this period. We've found that a simpler layout that works on the majority of email software is the best method for us. An example of recent design is shown below.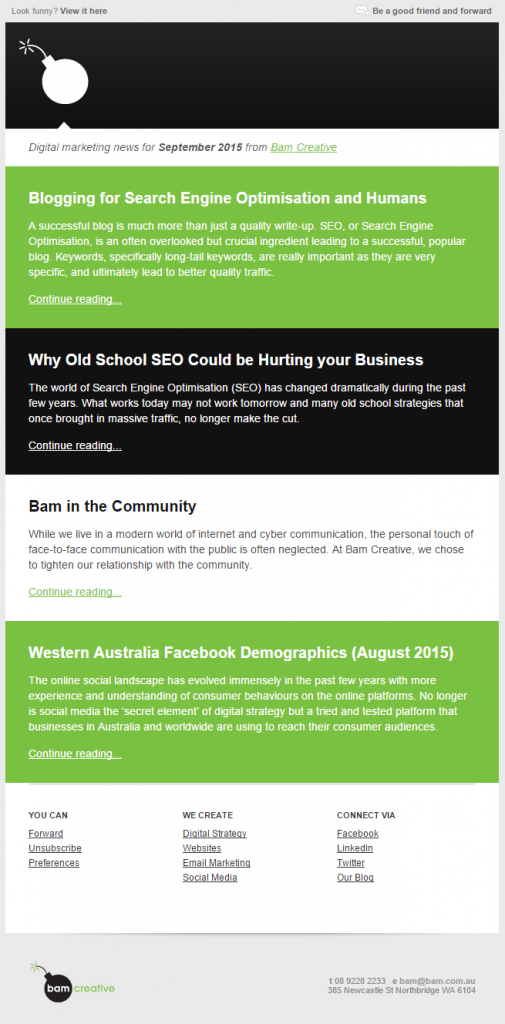 Bam Digital, September 2015
There are a number of components here. First is the header image, which is a simplified 'bomb only' version of our logo. This helps place who we are when the recipient first opens the email. They'll know who it is from, and will feel comfortable reading the email.
The second is a one-liner explaining what the email is all about, encapsulated in a few words. For example, this one states 'Digital marketing news for September 2015 from Bam Creative'. It explains the content within, the month we're in, and the sender, to reinforce the image.
Then we have four articles; well, the titles and opening paragraphs of the articles. These then link off to this blog, where the original articles were posted.
The last is the 'footer' of the email, which contains a variety of links and actions (such as unsubscribe, which is legally required in Australia) along with our logo and contact details (also required by law).
When starting your newsletter for the first time, try a variety of layouts and designs, and watch the interaction metrics to see what works best for your readers. More on metrics below.
Content
Whilst you may say the entire purpose of an effective email newsletter is to get an audience to engage with you, and consider purchasing more products or services form you, the last thing you want to do is create a newsletter that is just brimming with sales talk, and all about yourself.
Put yourself in your recipient's shoes; what content will work best for them? They want to receive engaging content that helps them in what they do; not a long email full of offers or 'sales talk'.
We are very mindful that our readers are busy, and don't want to have a long email to read; hence the short introductions to just four articles; they can quickly scan this email, find the articles that most appeal to them, and then click the link to read the full versions.
We're so mindful of this that using our email marketing software, we can review which links were most clicked on, and get an understanding of what content appeals best, for future editions.

Click rates in email newsletter

The difference between the winning article, and the losing article is very large; we can see here that content such as the first two articles works much better than the content from the last two.
Interestingly, you may assume that the first article that appears at the top would get more clicks than the last, however in this case, the winning article appeared last in that issue. Analyzing this further, the last three issues in order of 'most clicked' are like the below.
Most read content positions
So positioning isn't always such as an unfair advantage - in fact, these three issues all had the winning article being the last one in the newsletter.
We've got an interesting article with 33 email newsletter content ideas that you can use to spruce up your own content efforts.
Delivery
You've put all this effort into understanding what content works with your readers, and building an effective email newsletter; the last thing you want to do is let all that work go to waste by sending it at the wrong time.
Consider when is the best time for your newsletter to be read; is it in the morning, on the weekend, in the evening? For a B2B (business to business) email like ours, we find it is typically Tuesday to Thursdays in the morning.

Open rates over time
Each newsletter you send should be testing your hypothesis of when is the best time to send. Try sending on different days and different times, and watch the open rates and how you can maximize the readership.
A key variable many marketers overlook is the subject line of your email itself, and the senders details. Most email marketing software, like ours, BamMAIL, allows you to send variable tests. They work by sending two versions of your email to sample groups, normally a percentage of your entire recipient list. Our software allows you to do this automatically, and then send the winning version a few hours later to the rest of the list.
Here are the two subject lines we tested. Want to take a guess which one won?
Version A: Digital Marketing News from Bam Creative, September 2015
Version B: The best recent articles from Bam Creative, September 2015

Open rates in split test
The blue line shows the winning email subject line, whereas the red one wasn't that far behind, statistically. The winner? Version B. This subject line was more compelling, as it promised the 'best and most recent'.
Review
If you are sending regular emails out as part of your marketing efforts, and not reviewing the key metrics afterward, then you are wasting a great opportunity to improve your efforts over time. As you've seen above, we look at a number of key indicators to work at improving each email we send.
The main metrics we look at, are;
Open rates
Click rates
Shares
Unsubscribes
We want to ensure that all our content writing efforts don't go to waste, by ensuring we do our best to maximise the open and click rates, and encourage shares, whilst avoid a large number of unsubscribes.
Summary
Write great email content, have great software to deliver it, get it into your audiences hands regularly, and work on testing experiments with every send.
Good luck!