Email marketing is not a new thing, by any stretch of the imagination, but that doesn't mean it is any less effective in getting your message to the people who need it. All it requires is an understanding of how it works, and a bit of time making it work for you.
Split testing, not just effective for email marketing, is a method for measuring the success of your marketing.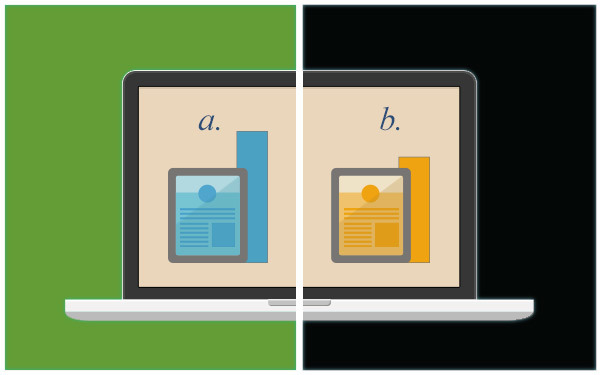 What are we talking about when we say "split testing"?

When you split test your emails, you are essentially segmenting (or splitting) your mailing list, sending one portion one version of an email and another portion a different version. When you review the statistics for your marketing campaign, you can judge which version was the most effective of the two. By utilising that version, you can furhter split test the elements to refine and improve your marketing.
In this way, you are qualifying seemingly subjective choices on the design of your email by conducting a controlled experiment. By choosing a metric to test, like improving click-through rates, form completions, purchases, etc, you are able to identify which elements are the best at achieving your goals.
How do we split test an email?
The key to successful split testing is to identify the goal of your emails. Do you want to achieve a higher click-through rate to your website? Perhaps you want to generate sales directly from our emails? Is the goal of this campaign to have forms completed?
The best practices of split testing include:
Eliminate, rather than include, elements.
Using fewer elements to achieve your conversion goals. By identifying which elements are resulting in higher conversions, you can remove any unnecessary elements from your emails, giving you a cleaner and more defined version of your marketing emails.
Focus on the call to action.
Segments of your audience are going to react differently to the text and appearance you choose for your calls to action. By identifying what works for which segments, you can refine your emails for each segment, making your emails work better for you.
Aim for the global maximum.
This is testing your emails, with the overarching goal of your website in mind, not each of individual page.
Keep it symmetrical and consistent.
Make testing changes consistent throughout the visitor flow to improve conversions at every step of the process.
Take a look at the last marketing email you sent out, and see if you can identify all them elements that could be tested.
Call to actions
Layout
Navigation
Copy
Promotional offers
Images
Subject lines
Beyond the individual elements, there are aspects within the elements that can be tested.
Length
Personalisation
Company name
Wording
Design
It all sounds hard. Why would we bother with split testing?
Ultimately, email split testing is about increasing conversions, learning about the behaviours of your email audience, and gives you the opportunity to adjust your campaigning to changes in your audience behaviour. It allows you to begin seeing what works and what doesn't, meaning you can increase the return on your invested time and money generating emails for marketing campaigns.
Thankfully, there are tools out there to help you develop and test your email marketing campaigns. BamMAIL is a powerful tool for making sending personalised email newsletters, one-off marketing messages, e-cards and company announcements a breeze. It ensures a higher open rate; with high deliverability, effortless creation and jaw-dropping reporting.