Does email marketing still have an important part to play in 2018? The infamous marketing tool of the 90s is still a valuable way to reach your audience, no matter where they are in the buyer cycle. In this episode, we talked segmentation and strategy.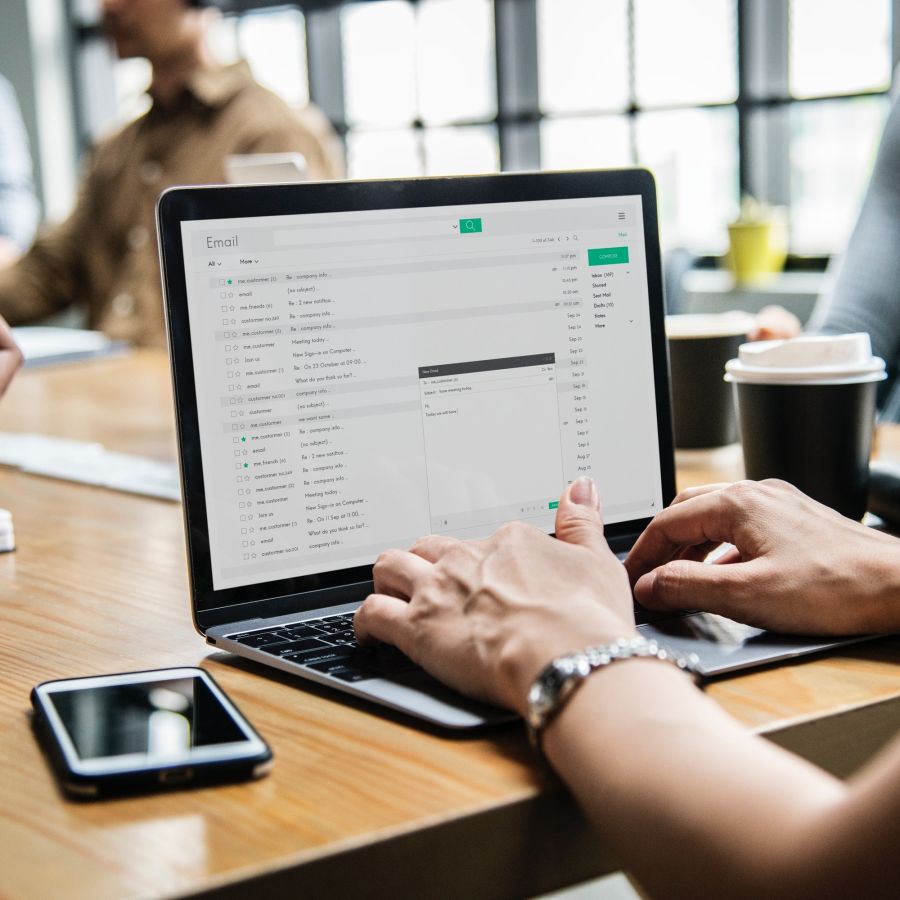 Episode 28
Show notes
Email marketing is something that can easily be forgotten in the age of social media marketing. Email marketing is perceived as spam and while it's true that it's not as effective as it once was in the 90s, it still has a place in any lead generation strategy. It all comes down to segmentation and content.
Taking stock
Before implementing a new email marketing strategy, it's a good idea to take stock of what you're currently doing, what's working and what isn't. This helps you create the basis of your strategy.
Currently, we send out podcast emails to our entire list. Not exactly the wisest move. However, we're mindful that we need to create a broad piece of content for this audience, so we cap it off with a call to action to reply to the email with any questions.
Those emails go straight to our Studio Manager, Jess, so our clients know that they're able to talk to the person at the source. Most of the time, Jess does receive replies with questions or work requests.
The open and click rates are also quite good, considering the complete lack of segmentation and knowing that the content doesn't apply to everyone.
Now that we've identified weaknesses and opportunities, it's time to move on to a new email marketing strategy.
Our messaging
Understanding your messaging before reaching out to your target audience is a great way to make sure that future content is in line with the message you're sending.
For the new Bam Creative mailing list, we want to empower people through information. This is exactly the same as our podcast and other content. By doing so, we aim to position ourselves an authority in the digital strategy space. And most importantly, we're not about the cash grab. We want to provide value to our audience, first and foremost.
Growing the list
Identifying the goals of your email marketing strategy will guide what you need to do to get to those goals.
We don't have any specific goals currently. Moving forward, we're focused on using our email marketing strategy to increase leads and sales. Before we get to that point, we need to decide:
Who we want to target
How we will grow our list and what campaigns we will create
What kind of content the target audience would be interested in
What kind of information would they find relevant, and where would they be in the buyer cycle to engage with that content?
Growing a list isn't without its pain points - we also need to make it clear to new people signing up to our list that they won't be spammed.
Creating content
The next step is to decide what kind of content you will be sending to your list to support your message and objectives. Content can be one of the hardest things to create, as it's the most time consuming.
For us, the podcast is a pillar of content that is easily scalable for us, so we're able to repurpose it to help support our objectives. This means that we can easily create an Instagram marketing drip-feed because we already have a few podcast episodes about this very topic. We can split up the audio or the written content or the video, and create an interactive course on how to get your Instagram up to scratch without having to go and create new content.
This is just one example of how to create content for your email marketing strategy.
Another thing to consider is the design of your email. As we try to keep things as organic as possible, we absolutely limit the amount of images in an email as it already looks spammy. Our layouts look as though they've come directly from someone in our team, which is how we like it. It's up to you to decide how your emails look, depending on your message and goals.
If you're creating content from scratch, we recommend reading the article from episode 6, which is all about creating our content marketing strategy and how you can create yours.
Segmentation and targeting
Creating relevant content for specific groups means that you can improve open and click rates within specific email marketing lists.
Segmentation can be based on an infinite number of factors such as demographics, lifestyle or even where the customer is on the buyer cycle but it also depends on your industry and your goals.
Understanding how to segment your list can start by defining your goals and working backwards: who will you connect with, what will you offer, and what are you trying to have them achieve to get you to meet your goals? If you have an existing mail list, a survey with an incentive is a great way to be able to get real feedback from your list which can help you not only understand them better, but also to create the content and actions they will content with.
At Bam Creative, our primary goal is to increase leads, with our secondary goal to present ourselves as authoritative in the digital strategy space in Perth. However, our primary goal is dependant on our secondary goal which means that a lot of our content will be driven by creating and adding value to our clients, whilst connecting with them with specific content depending on where they are in the buyer cycle with us.
Putting the pieces together for our new mailing lists, our very broad segments might be:
Pre-sale: once a prospect has engaged with us for a project proposal, we're able to further inform them about their enquired service, our processes and values and the project team. It means that we're able to connect with prospective client when they're most engaged.
During a project: When we're working away on the project, sometimes the lines of communication go quiet which is often a concern to our clients. To keep the lines of communication open, we would create specific content related to their projects such as timeline information, helpful information specific to their product and what they can do after their website goes live, as an example.
After-care: once a project is finished, we're able to send through information based on the common post-project questions we receive such as lost passwords, how to set up email, SEO tips and tricks they can action themselves. This content would be based on the products
These are very broad segments and ideas for lists that need to be refined but forms the basis of where we want to go.
Action steps
To get our email marketing strategy up and running, this is what we plan to do:
Develop our goals and create segmentation lists and content from that
Identify opportunities where we can create and build lists, and be active in creating content that we feel would help us meet our objectives (don't miss opportunities to make contact with clients)
Identify who we are targeting and what content we want to create for them
Create a follow up review so we can share what's going on, metrics, successes and things that need to change
In the next few episodes, we'll keep you up to date with how we're going and share failures and successes with you.
Episode Highlights
00:50 - Instagram direct scheduling is rolling out to Buffer users this week, and users of Hootsuite are already using it.
02:55 - Instagram is rolling out a quote story feature, so that you can repost other users' images and share them in your Instagram stories feed.
04:22 - Rihanna called out Snapchat for allowing an ad that mocked her her domestic violence incident. As a result, Snapchat lost USD800 million on the stock market.
09:36 - Facebook loses $35 billion due to major data breach. Political analytics firm, Cambridge Analytica, were able to collate private user data of over 50 million Facebook users in an attempt to influence the 2016 US Presidential election. Facebook has not acknowledged there was a breach but have noted that they cannot control who has access to the data. Facebook will be looking at how they manage this process.
13:55 - Click bait alert: Gizmodo recently published an article stating that investors are advising against investing in Facebook. Zuck generally attempts to absolve his company of blame (see: fake news), writing personal essays on his FB page and promising to do better. Gizmodo say they'd better watch out as people will be out for blood and the tech industry will sit back and let this sacrificial lamb get slaughtered.
17:10 - We're talking email marketing and how you can bring it into your digital strategy in 2018. We talked about how we could implement it into our own strategy, but some ideas for strategy, segmentation, content, how to connect with users at different stages of the buyer cycle and action points.