There's no greater medium for your business to connect with your customers than social media but with so many outlets like Facebook, Twitter, Google+ and LinkedIn, you can waste away countless hours just thinking about what to post.
An online survey in the US found that business owners were spending almost 50% more time than non-business owners but with all that time spent, how many hours are you wasting? With a structured plan and a little bit of creating thinking, you can develop a social media strategy that can save you literally hundreds of hours every year!
In this article, we'll discover what you can do for your business and build the ultimate social media calendar that will save you time and stress in just 5 simple steps.
Step 1: Dedicate time to developing an effective strategy
It's a pretty simple concept; in order to develop an effective social media strategy you're going to need some time!
Social media is a crucial part of business to consumer (B2C) marketing and networking but the task of updating social media is often left to one or two people atop a mountain of other miscellaneous tasks. In order to effectively use your time it's important to dedicate a larger block of time where your mind can focus and reduce wastage as you jump in and out of the work.
Let's face it, everyone is busy but like all good things in life, you need to dedicate yourself if you want a great result.
Let's face it, everyone is busy but like all good things in life, you need to dedicate yourself if you want a great result. Schedule yourself a few hours near the end of every month to plan out your posts for the coming weeks and an hour each week to catch up and review.
Step 2: Create a social media template
If you're going to dedicate your time to developing a business social media strategy then you'll certainly want to create a structured document where you can effectively plan out your posts. It's completely up to your own personal preference which program or service you use for this but we find some kind of spreadsheet is the best way to manage the template.
Microsoft Excel: Keeping it basic
If you prefer to work in a familiar program you can definitely use Microsoft Office or any other spreadsheet program on your local computer. You will have the benefit of familiarity but you will be restricted in how you can share the document. If you're on your own then this may not be an issue but if you're looking to work in a team environment this will certainly cause some issues. Sending the document via email will create multiple versions of the document and incur double handling to ensure nothing has been missed out.
Adding your local document to a shared file server or cloud hosting solution such as Dropbox will allow multiple people to access to gain access to the file but with limited support for collaborative document editing, this is a less than ideal solution for effective teamwork.
Google Sheets: A collaborative approach
At Bam Creative we personally find Google Sheets to be the best platform to manage our social media template. The greatest benefit of this program is the support for collaborative work. Using the inbuilt functionality, you can invite others to access the document (such as clients or managers) and multiple users can simultaneously edit content. It even updates changes in real-time so you can see what is being worked on!
Google Sheets also has the benefit of being hosted online so it can be accessed from the desktop in the office, from your laptop in a coffee shop or for the truly dedicated, on your computer at home.
Step 3: Structuring your template
If you've made the clever decision to use a spreadsheet, save yourself some time by downloading our free social media template.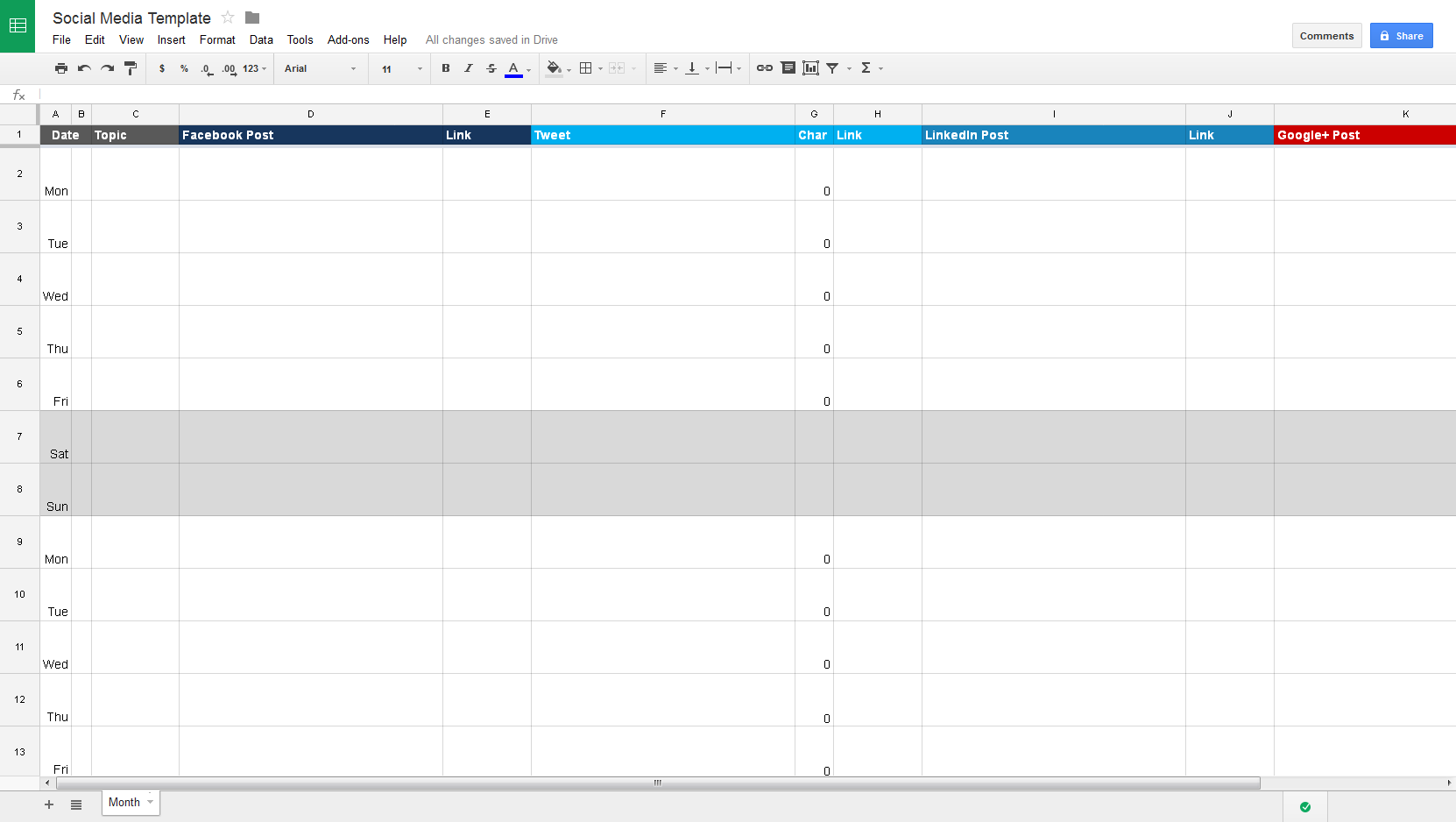 Our social media template includes the basic structure you need to build up your own strategy document with a row for each day of the week, and columns for the date, topic and each social media platform.
You'll notice that each platform is broken into two columns; one for text and one for links. You may not think much of it now but you'll thank us later when you can click directly on the links!
One of the most important features of this document is the 'topic' column. It doesn't seem like a revolutionary idea but by giving yourself a topic to consider for each day of the week you suddenly have a much narrower space to find posts for. Half of the battle of social media planning is coming up with new and exciting things to post so by structuring your template like this you can immediately cut down on the amount of time wasted.
We understand that our layout may not be the perfect fit for everyone so feel free to add in your own columns and move things around - we promise we won't take offence!
Colour coding for clarity
Colour coding your document can make your life a whole lot easier by creating a visual difference that's easier to scan. Particularly if your social media practices include an approval process, you can designate certain text colours to different statuses and invite your supervisor to view the planner and colour accordingly.
Black: Suggested Post
Green: Approved Post
Orange: Requires Attention
Red: Rejected Post
Blue: Scheduled/Posted
Step 4: Social media idea generation
Even with a predefined topic structure it can often be a struggle to generate interesting and engaging posts - there are only so many clever articles you can find. A study of what activity takes up the most time in social media management found that 'Finding and Posting Content' was the biggest burden. Here are some of our tips for efficient content research.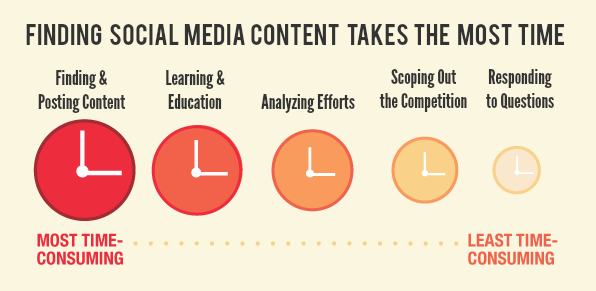 Competitor research
It may seem like a bit of a cheat but researching your competitors is a great place to start. Even if you're not sharing the exact same articles, discovering where they are sourcing their articles might lead to a wealth of valuable links.
Collect as you go
Even if you are setting aside time for social media planning at the end of each month doesn't mean you can't always be on the lookout. If you see an interesting article anytime you're online, remember to bookmark it or record the link somewhere handy. If you find a great news resource with lots of interesting articles, make sure you note it down and check back regularly for new stories. If you only check once a month you might miss out on others from weeks previous that have been replaced and hidden into the archives.
What's happening in your industry?
What's going on in your industry? Seek out some reliable news sources that consistently post quality content about your field of works and share the information with your subscribers. If they're following your profile then they likely have an interest in what you do.
Many hands make light work
Developing social media posts for an entire business on your own can feel quite isolating but there's really no need for it to be. Don't be afraid to ask your employees or colleagues to share any interesting stories they read or happenings in the company. Subscribers typically respond best to real news about the company so make sure you get as much of that as you can.
Days of the year
The ultimate filler for your social media calendar are the various official and unofficial days of the year. Have you ever heard of Draw a Bird Day or Carrot Cake Day? Neither has most but it's a great opportunity to have a bit of fun and bake some cake! Daysoftheyear.com is a good place to start.
Step 5: Schedule, review and update
After the journey of social media planning and review, it's time to schedule in the posts you've worked so hard to prepare and articulate. Automate the process by scheduling in your posts in advance through the native schedulers or 3rd party systems. Getting them all in at once will ensure you can post at the optimal timings and reduce the stress of logging in everyday or even forgetting and missing a timely opportunity.
Some audiences will respond better to certain types of posts, while some can just be a miss but don't ever be afraid to try something new.
Social media is by no means a cut and dry process. Some audiences will respond better to certain types of posts, while some can just be a miss but don't ever be afraid to try something new. Use the analytics tools available on each platform to gauge user reactions and continually develop your strategy. If you're managing a business Facebook page then you should have already noticed your Insights panel with a wealth of valuable statistics but did you know Twitter has analytics too? Available to all profiles, Twitter Analytics offers great summaries and detailed statistics about tweet impression, followers, mentions and profile visits. If you haven't engaged with the statistics before is about time you get started!
What kind of posts do my audience like? Which time period harbours the greatest success? Do my users prefer news links or photos with links? Are my audiences responding to the same content each social media platform? - Keep asking yourself these kinds of questions and use your statistics to find the answers and improve. By the end of this process you'll be ready to plan out your next month of posts like a seasoned professional. Good luck on your social media journey!