Search Engine Optimisation
A lot of people ask, "What can SEO do for me?". Let's start with increasing your organic website traffic and helping to grow your bottom line.
Your website should be working to grow your business operations from day one. A data-driven, evolving SEO strategy created specifically to meet your business objectives, means your website is working to deliver results.

That means so much more than aiming for #1 on Google.
What SEO can do for you
Search Engine Optimisation is one of the most powerful ways to increase business in your industry. SEO is a long game in comparison to Google Adwords, but worth the investment. It means that you can attract visitors to your site organically, potentially increasing the rankings through relevant keywords and content.

This means that your website will be working for you, 24/7 (even weekends), whether you're running a paid campaign or not.
Search Engine Optimisation can:
Increase your website's visibility in Google rankings with relevant keywords
Grow organic traffic to your website with an increase in conversions
Connect with your audience at various stages of their engagement with your brand through relevant content
A winning strategy for Mettam's Mufflers
Mettam's Mufflers have achieved some impressive results since their first SEO strategy.
25% increase in organic traffic
31 keywords on the first page of Google
20% increase in site conversions in the past 3 months
Creating your ongoing SEO strategy
There are some cowboys out there that promise rankings, but that's not our style. Any good SEO strategy should be based on increasing relevant organic traffic through to your website - you can't fake good content.
It means you're going to get relevant results and faster than you would by attempting to rank #1 on Google for a keyword that may or may not be relevant to your content.
Strategy elements
Our in-house specialists start with a deep-dive into your industry, business, audience and objectives to lay the foundation of your strategy.
No two strategies are the same, because no two businesses are the same. It means that each strategy may involve:
Comprehensive keyword research with a content plan
On-site technical SEO fixes and updates to keep your website open for organic traffic business
Off-site SEO including link-building
Content marketing strategy with an ongoing plan
Reputation management
Local SEO including optimised Google My Business listings
Reporting based on your goals and schedule
With any strategy, we always have a game plan so that it evolves based on metrics that are defined to meet your goals.
Your results
Your results will vary depending on your business and your objectives, but your dedicated Account Manager will work with you to define your goals.
This forms the basis of your monthly report, which will also outline recommendations to make the changes to ensure your strategy is working to grow your bottom line.

Search Engine Optimisation (SEO) is all about buyer intent.
Whether your customer is purchasing a product or educating themselves about your product or service, ranking in the top 1-3 results in Google organic and Google Map listings is the most cost-effective way to increase brand awareness and online conversions.
That means: phone call clicks from their mobile phone and contact form submissions, just to name a couple.
How does traffic translate into enquiries?
Understanding how traffic translates into enquiries will empower you to set smart objectives for your SEO campaign. These objectives will be grounded by data and prevent you from slipping into false disappointment.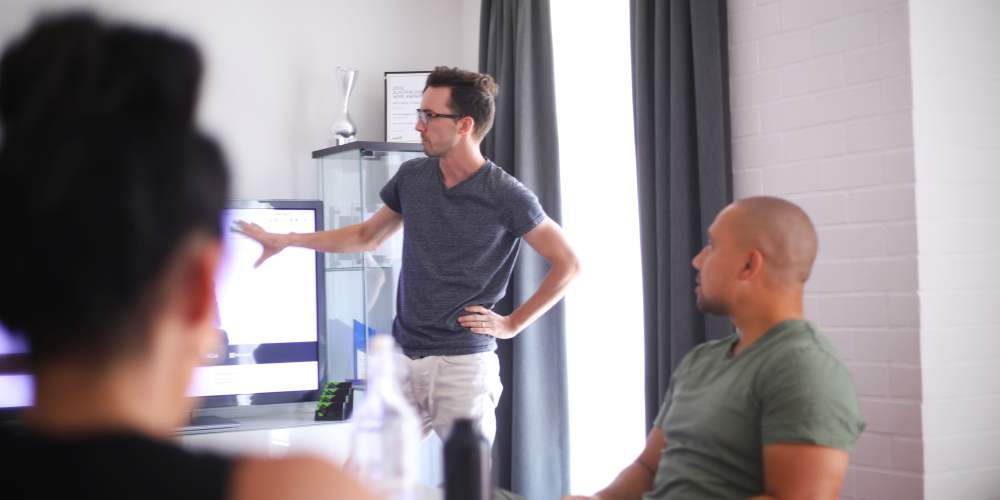 How SEO campaigns fail
One of the most common reasons SEO campaigns fail is due to a company ranking for keywords that lack relevance to both their brand and to their customer's intent. Many clients who seek our search engine optimisation services have achieved the same results after a 12-month campaign: traffic to their site has increased, but the traffic isn't relevant and lead-building, therefore it has left them out of pocket and no closer to their goals.
At Bam Creative, we know how to drive the right attention to your site, to build relevant leads and foster a cohesive online presence.

It all starts with an audit
Even before a keyword list is compiled, an effective SEO audit of your current website will address pre-existing opportunities. This will look at your website and your Google My Business listing, as well as how you stack up to competitors. We will provide on-page recommendations to increase traffic for high-value keywords.
Upon approval, these recommendations are implemented, and a monthly link-building strategy is enacted to help increase the organic ranking of your website.
This body of work includes regular monitoring of your website as well as creating creation of thematically-relevant citation and directory links. This is all backed by our extensive industry knowledge and personal marketing flare.
Get in touch
If you want to use Search Engine Optimisation, request a no-obligation meeting to discuss your business and marketing objectives with our team. If you'd like to find out more or discuss your project, give us a call on (08) 9228 2233 or contact us today.