Content Marketing Lessons from the Top 1,000 Articles Shared on LinkedIn
Updated 31 May 2021 (Published 22 August 2017) by Miles in Digital Marketing
As digital marketers, we are always crunching data, to learn from successful campaigns, content and more, as we help create great campaigns for clients. Our latest research focuses on what content resonates best with LinkedIn members.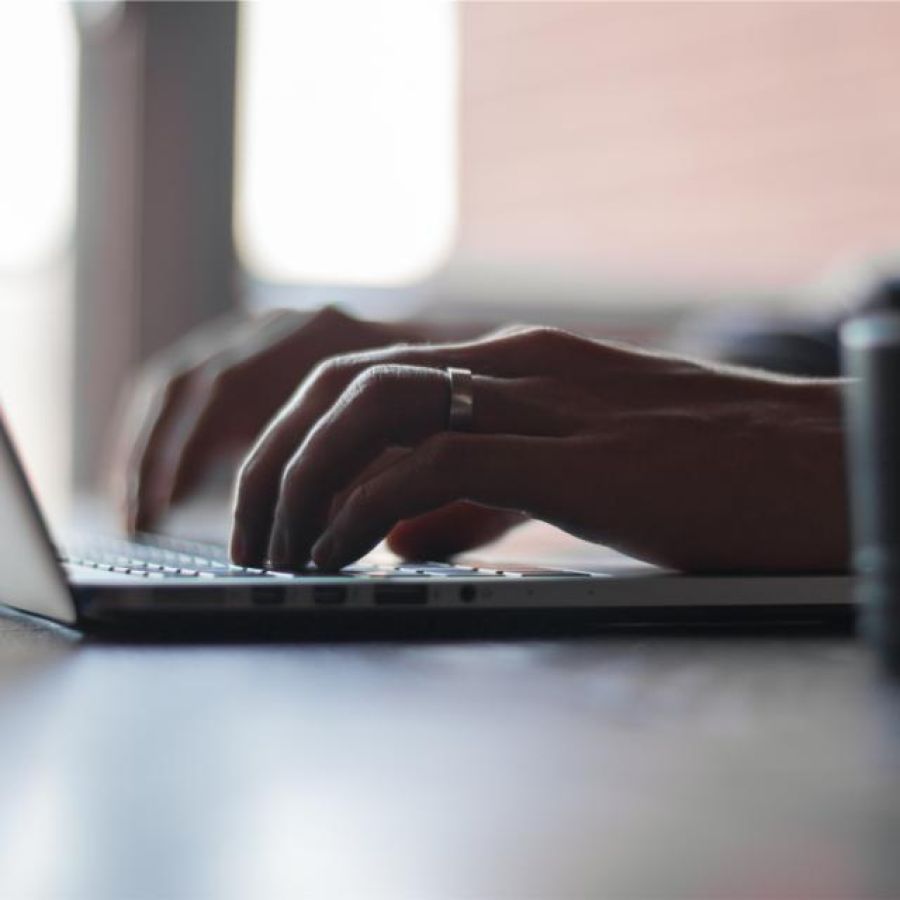 To do this, we've collated all the data on the 1,000 most shared articles on LinkedIn over the last twelve months. We then found out how much they had been shared on other platforms, such as Facebook and Twitter. We looked at the websites themselves, and collated the amount of inbound links and their domain SEO rating.
The results of this research can teach us plenty about how to write content that is incredibly sharable on business platforms like LinkedIn.
The most shared article, was shared 153,894 times alone on LinkedIn. The 1,000th most shared was shared 5,759 times, which is still a very good result.
In total, the average article was shared 24,850 times across a number of platforms; LinkedIn, Twitter, Facebook, Google+ and Pinterest.
Word count
We know that lengthier blog posts and content tend to get better shares. The average length across all 1,000 articles was 1,545 words. The average adult reads 300 words per minute, which means the average article takes just over five minutes to read.
The lengthiest article was 12,674 words long (that's only a small amount shorter than William Shakespeare's Midsummer Night's Dream, which is 16,511 words) and the shortest article was a teeny 226 words.
In comparison, this article is 1192 words long.
What sites were most popular?
There is definitely an unfair advantage towards large publishers when it comes to getting your content shared. This is reflected in the top five publishers, with 4 out of 5 being traditional media outlets.
The top five sites for shares, are;
These five publishers accounted for 599 out of the top 1,000 articles – a whopping 60% of the most shared.
See also, our previous article 5 Content Marketing Lessons Building a High Traffic Blog which demonstrated how we attract over 2,000 readers per day to a client blog.
Headlines matter
The first thing a reader will see when looking at a shared post, is typically the image, shortly followed by the headline. If your headline provokes a yawn, don't expect anyone to continue to read, no matter how great the photo or illustration is.
The ideal headline length, based on these 1,000 titles, is exactly 7.6 words long. This is similar to research discovered by Buffer, which showed the optimum length was six words for a blog headline (source).
LinkedIn cuts headlines off when sharing articles at around 70 characters long, so you need to keep the title less than that if you want readers to see the entire title.
This example below shows an article we shared on our LinkedIn company page, had the headline The Top 5 SEO factors your business can't live without - Bam Creative, which is 13 words, and comes in just under the limit, at 69 characters.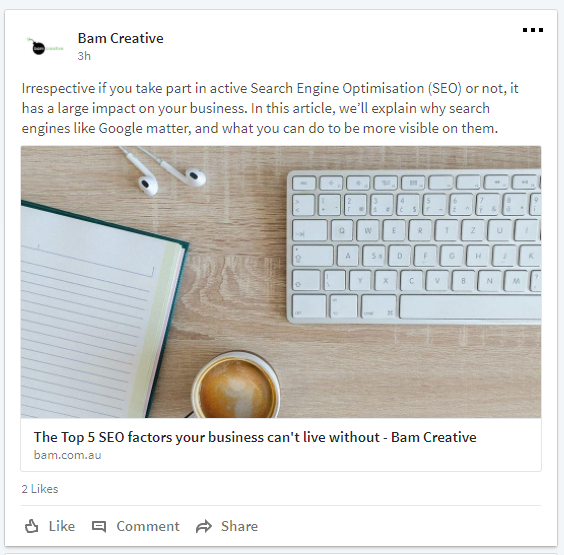 Whilst we are talking about images, take a look at our article, A Hands on Guide to Visual Content Marketing which helps explain this further.
What are the most common words in the headlines of all these articles?
We all know that 'power words' work, but so does simplicity. Ignoring the usual stop words (the, and it, etc), we are left with the following top 20 words for sharable articles.
| WORD | FREQUENCY |
| --- | --- |
| 1. how | 91 (1%) |
| 2. why | 58 (0.7%) |
| 3. job | 42 (0.5%) |
| 4. work | 39 (0.4%) |
| 5. people | 39 (0.4%) |
| 6. business | 34 (0.4%) |
| 7. 2017 | 33 (0.4%) |
| 8. new | 33 (0.4%) |
| 9. will | 33 (0.4%) |
| 10. 10 | 32 (0.4%) |
| 11. best | 27 (0.3%) |
| 12. should | 27 (0.3%) |
| 13. things | 26 (0.3%) |
| 14. top | 26 (0.3%) |
| 15. make | 25 (0.3%) |
| 16. ten | 23 (0.3%) |
| 17. employees | 21 (0.2%) |
| 18. companies | 20 (0.2%) |
| 19. successful | 20 (0.2%) |
| 20. get | 20 (0.2%) |
You'll note that the above list are all simple to understand words. Complex words have no place in headlines. You want to convey your message without making people think too hard. For example, instead of 'commensurate', which is a mouthful, use a simpler word such as 'equal'.
"Any word you have to hunt for in a thesaurus is the wrong word. There are no exceptions to this rule."

― Stephen King
The top 10 most shared articles on LinkedIn
Seems that many LinkedIn members are interested in workhours – benefits of an extra day off, or ways to reduce workload. Along with customer service and service culture, there is definitely a trend in topics to be seen here.

Two common content marketing tricks is to use numbers in headlines, such as 13 Things You Should Give Up If You Want To Be Successful or questions as titles, such as Why is the Customer Experience Model so important?
View all 1,000 articles in a spreadsheet
It's one thing me talking about the data we used in our research, however I want you to look through it for yourself. If you would like 1,000 most shared articles on LinkedIn, including data on share counts and more, you can see the whole list here. It's in Google Sheets, so all you'll need to do to save a copy, is go to File > Make a copy.
Our data, all free for download.
In Summary
The big takeaways form our research shows that to be popular on LinkedIn, your content needs a business focus, have a headline around eight words long (and not complex words either!).
Your article should be a reasonable length. The median length here was 1,545 words long, which is a five minute read.
Choose a good image to go with the article, for when people share on social media.
Finally, download and review the top 1,000 articles yourself, and see what other topics you could cover on your own blog.
If you liked this post, I encourage you to connect with us on LinkedIn by following our Bam Creative company page. We regularly post new articles and research, and would love to share this knowledge with you!