Last year, a select few of the Bam Creative Team attended annual web industry event, Web Directions 2015.
Over two days, we each attended 12 talks and enjoyed a great range of speakers presenting some really intriguing content.
One of the biggest highlights of the conference was a talk called "Built for Speed" by Daniel Burka (@dburka), which explored the lifecycle of a GV (formerly Google Ventures) design sprint developed for Startups. For small start-up businesses, wasting a lot of time and energy isn't really an option. Time and money must be used effectively to ensure future success.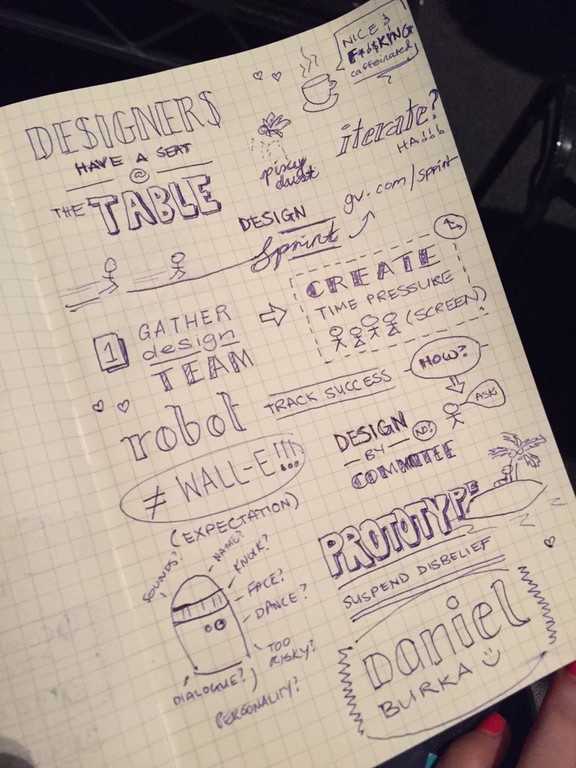 Daniel took us through the 5-day sprint model developed by GV to get a number of startup ideas off the ground and running. Using startup company, Savioke as an example, Burka explained how they got their idea of a hotel delivery robot off the ground. From dancing robots to "super voting", the talk was insightful and kind of made us want a robot butler.
The 5-day sprint period is designed to focus on ideas and learning, rather than building. It allows ideas to be investigated, played out and rapidly prototyped to inform further development. Each day has certain goals and deliverables, which GV categorises into the following; Set the stage, unpack, sketch, decide, prototype, and finally, test.
Monday: Unpack
The first day of the sprint cycle is used to gather your team together and really set the stage for how the rest of the week will go. This is the time for initial planning and creating story boards of all user interactions with the product.
Daniel suggested creating a time pressure to deliver by scheduling user testing on Friday, the last day of the sprint. He states that if people are going to interact with your product at the end of the week, you're more likely to get it finished before then.
Tuesday: Sketch
The second day of the sprint cycle should be used to explore all the possible solutions to the problem your product is trying to fix, and also looking at user experience. Rather than doing a group brain storm, splitting the team up individually and conducting brainstorming session on their own can be very beneficial.
This allows each team member to plan out their own concept without running the risk of "groupthink" or only the loudest being heard. At the end, each individual will come up with their own concept development.

Wednesday: Decide
The third day is for bringing all the ideas together and using it to create the final design. Everyone is to vote on aspects of the individual designs that they like, and would like to see incorporated into the final design.
Stakeholders are also given weighted votes. After voting is complete, they'll be tallied up and the solutions with a greater amount of votes get implemented. Once features and aspects are chosen, the team will storyboard, test, assess risks, and prepare for Thursday's prototyping session.
Thursday: Prototype
Thursday is the day to put the past few days planning into motion. It's time to create a working prototype ready for user testing the next day. It's important to prototype like it's a prototype and remember that prototypes, by nature, get thrown out at the end.
The prototype just needs to showcase your products features and possibilities, in the best way to get tested. It doesn't have to be perfect, it just has to work!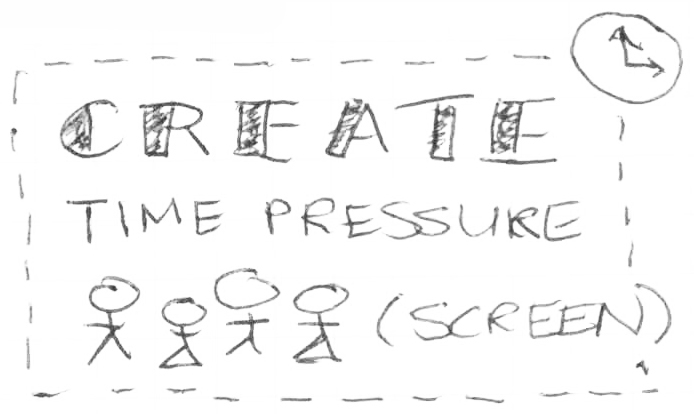 Friday: Test
The final day of the sprint cycle is here. Time to put all your hard work to the test and pass it over to the users for testing. You need to have methods of recording the data from user testing.
When testing, you don't really need huge testing facilities with an array of impressive data collecting technology. To collect useful and actionable feedback, all you need is a room and a camera. These tests will conclude what works about your product, and what doesn't.
Summary
One of the greatest lessons taken from Daniel Burka's talk was that you don't need massive development cycles to begin a successful idea or product. Iterative development cycles are great, but are an ongoing process that require a significant amount of time. The rapid sprint can answer some critical questions regarding your product before too much time is invested.
Overall "Built for Speed" by Daniel Burka was a very insightful and engaging talk. It challenged the idea that you can't conduct a project in a week and serves as an inspiration for future projects.
As a company that has participated in "startup sprints", it would be very interesting to apply this knowledge to our next one and see what impact it has on development.