In an earlier blog post I wrote about how we created our company values. In it, I spoke about how these were meant to never be forgotten. So, what happens next?
We have been doing a few different activities around our values.
Firstly, we had them printed in large format posters, which adorn our office walls.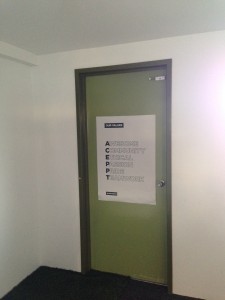 Then, in our weekly scrum-like meetings with staff, we ask people for examples of how they've lived up to these values. We ask for an example of at least one value (Awesome, Community, Ethical, Passion, Pride & Teamwork) and what they have done towards these goals. Answers have been mixed, from engaging in volunteering (Community) through to feeling passion around certain projects or business directions.
We have them published on our website (see them here), and encourage clients and suppliers to give us feedback about them.
We've also added these to our quarterly performance reviews.
That's right; we do reviews with everyone here at least every 3-4 months. Rather than a large annual review, we prefer to keep these meetings more frequent, to ensure the feedback cycle is short. When we say feedback, we use these review sessions not just for employees, but we use these to find out how each individual feels about the business and our direction. We use happiness scores to understand what they like and dislike about their roles here, and look for ways to positively change outcomes.
We've also added these values to our recruitment processes, explaining them and asking for previous examples with short-listed candidates, and we're also developing these into our induction process as well.
As illustrated above, these company values aren't something we write and file in some dark place in our office; they are used at least weekly to discuss performance of both individuals and the entire business.
I'll pen another article about this when we're up to our annual review of these, to let you know how they have made a further impact into the business.