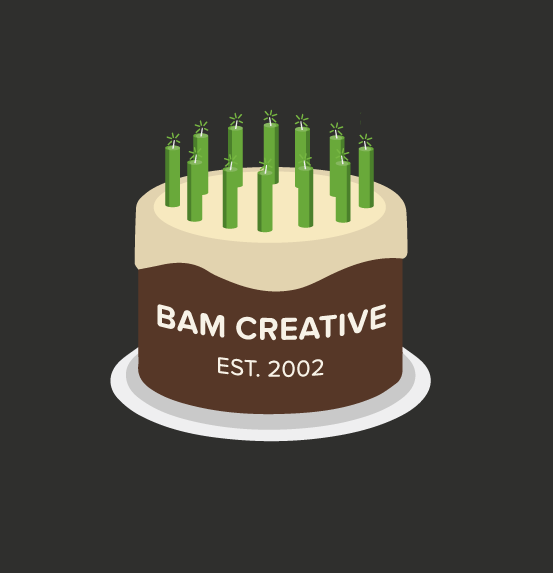 We're pleased as punch to announce that today is our 12th birthday here at Bam Creative. We started life as a solo operation, working from a small desk area in Inglewood. Managing Director, Miles, was both designer, developer, sales person, account manager and book keeper. Since those tiny beginnings, we're now a team of 13 in a great office space in Northbridge.
During this time, we've seen the web, and how we use it, change drastically. Here is what the web looked like when we launched in 2002, compared to now.
| | | |
| --- | --- | --- |
| | 2002 | 2014 |
| Australian internet access | 46% | 90% |
| Australian broadband subscribers | 7% | 75% |
| Global Internet population | 569m | 2.98 billion |
| Global websites | 3 million | 1.08 billion |
This is just a small indication of how times have changed during this time. One of the biggest changes has been devices used to connect to the web. In 2002, it was nearly entirely laptops or desktop computers. We had WAP for internet access, but it was so clumsy and difficult, it was barely ever used for general 'web surfing'. Social media didn't exist either; the web was nowhere near as 'read write' as it is now.
For example, Facebook didn't launch until February 2004. Now, there are 13.4 million Australian users. Video behemoth YouTube, wasn't around either (who had broadband back then?), they launched in March 2005. Social media favourite, Twitter, launched in March 2006.
As for devices, the popular 'smart phones' didn't come out until 2007, with the first Apple iPhone being released in June 2007, followed up by the Android Phone being first released in November 2007.
Nowadays, Australians spend a huge amount of time on these phones using the above social media, banking, weather, news and more.
According to the Australian Bureau of Statististics, 42% of small business failed between 2003-2007, and a further 30% from 2008. That depressing statistic shows cause for us to celebrate; we've been operating since 14th October 2002, and still going strong.
So Happy Birthday to us, and we look forward to watching the changes in the digital space over the next 12 years!