Hello, Internet.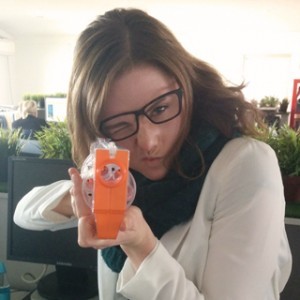 My name is Anna Burchfield, and I don't belong at Bam Creative.
Well, at least not on paper. If you saw my resume, you'd see a BA in International Relations and Public Relations, and a Master's Degree in International Relations.
"Master of what what?!"
International politics.
[Unfortunately it's not Inter-GALACTIC relations. There goes the dream of being a Jedi knight!]
I am a fairly unlikely intern at Bam, but it was my desire for something different and new that brought me back here. I met Miles in November 2013 when applied for a job at Bam, I unfortunately didn't get the position, but Miles and I got along famously; we spent most of the interview discussing Game of Thrones and 'Frocktober'.
Since finishing my Masters Degree in July 2013 I have been interning at many workplaces throughout the last year. Yes, being an intern for a YEAR is a long time; it has ups and downs, and expectations are high in the job market. I've put the "Intern" in "International Relations" - whilst pursuing a digital marketing-type career.
I decided to get back in contact with Bam about a month ago, to learn about SEO, as this seemed to be a big part of the digital marketing/PR-type jobs I was applying for. So I've "gone back to school" in a sense, working on something I really have no knowledge of. I am using the PR part of my degree which I didn't think I ever really would pursue as a career; I'm interested to see where I end up with my [developing] knowledge of SEO from Bam;
Maybe in a galaxy far, away? Who knows!
Interning isn't too different to learning SEO.
Allow me to explain my theory -
"Serious Experience Optimisation"
Just like a website, you are a fledgling entity trying to attract attention.
You don't have a large budget, or detailed knowledge of how to position yourself in the right place, or be in the right place at the right time as someone is searching for someone like you.
[That's too much running!]
In terms of networking, you have lots of people who know what you do/interested in, but not the RIGHT people? You have to have the right "links" directing back to you.
Not all interns are created the same - some have the budget to make a leap to market themselves in another city, or overseas. You have to maximize yourself at a minimal cost.
In order to get to the top, to be the optimal search result, you need to build up your experience to get those necessary "hits".
You need an idea of what you want; streamline your options. Have keywords. Typing "career" into Google AdWords won't return your 'dream job' without you being specific.
Use your tools. Money can't buy advice from a colleague or mentor, proof reading of resumes, even rehearsing interview questions, Google while it's still free - make sure you do your research.
Get to know your competitors - see what other people are doing, saying and searching for; be serious and familiarise yourself with good, [and ethical] practices.
Be social! When you share your experience, you increase your probability of attracting the right people/hits. Ask questions. You're never too old/not clever enough to ask "How?" "Why?" or "What?" about anything.
Refresh, Refresh, Refresh! You will update yourself continually, you will lay a brick with each experience and one day you wake up to the wall/monument you've built. People will stop and pay attention.
Serious Experience Optimisation.
Rinse, repeat and enjoy!
Intern life is what you make of it. It seems to have become increasingly necessary; but I reckon I've had a great diversity of experience - administration, marketing research, social media, international relations, public relations, image consultancy and digital marketing.
I, in the meantime, resolve to be a [half-baked] adult who gives 100% effort in my work, and in my enjoyment of my work.
Which isn't hard at Bam - whether its excel spreadsheet, blog entry, or dodging nerf gun bullets!
I didn't choose #internlife, #lifeatbam chose me.