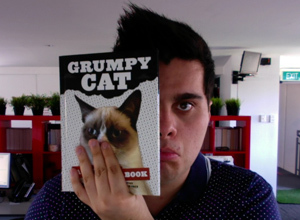 Beginning with the pleasantries; my Name is Joseph Henriquez and I graduated in Website Development from the Central Institute of Technology. Since then, I have continued building on my knowledge and skill set by delving into the world of freelancing. I have had the pleasure of working with a diverse set of clientele that have constantly kept me on my feet and pushed me to produce the best work achievable. Eventually though, I felt that I had hit a brick wall and this wasn't a mental brick wall that a runner confronts, but rather a brick wall of personal development that I had encountered and couldn't overcome.
There is only so far one can progress on one's own, so I decided to intern at a Perth Digital Agency to immerse myself amongst individuals that eat, drink and breathe this stuff. So I did the typical thing any person would do; no, not get out the Yellow Pages and look under 'D' for Digital Agency or 'W' for 'Web Development' (does anyone still use these???) but Google 'Web Development Firms in Perth.' I came across several agencies, but the one that stood out was Bam Creative; primarily because of the name and the logo, there was just something that resonated with me along with their extensive portfolio of amazing unique work.
I contacted Patima, one of the Creative Directors of the Agency and soon enough after several exchanges over email I met her. She showed me around the office and the first thing I noticed were the dozen of Nerf bullets on the floor, right then and there I knew I had found the right agency. I had this idea that a Web Development Firm comprised of box cubicles and people wearing suits and being super serious, but it was nothing like this. There was music playing in the background and people wearing normal clothing and interacting with another as if they were related.
As soon as I came on board as an intern, the first thing I noticed was the team dynamic, instilled and embodied by the founder of Bam Creative, Miles Burke. In a nutshell, the motto of Bam Creative is to 'love what you do', which then births an ethos of perfection, continual striving of excellence, treating others respectfully, pushing one's self as hard as possible and having fun! All this was achieved through this motto of loving what you do in contrast to doing things as an obligation, for the benefit of the company or for raking in as much money as possible. This attitude really struck me because it made me realise that for me to continue developing as a Designer and Developer, I had to have this at my core and this is what I saw in the employees at Bam Creative. Everyone continuously strived for perfection and pushed themselves, because they love what they do, not because Miles is secretly a dictator who always has a whip by his side.
I learnt a lot from my time at Bam Creative and was fortunate to experience an array of different things. From meeting with actual clients and seeing how an agency conducts a meeting, to creating flow charts and experiencing a startup project; working within a small team and bouncing ideas off to develop a functioning product. Bam Creative has super talented individuals whom I have had the pleasure to work and learn from.
I sign off by passing on an internship secret (shhh don't tell anyone!): if you're doing a lunch run, be sure to sign up to loyalty programs as 1 in every 3 lunch runs will result in a free meal :P
- Joseph