Why and How to Run a DIY SEO Health Check in Under 10 Minutes
Published 22 October 2020 by Miles in Digital Marketing
Search engine optimisation. It sounds like a voodoo science, right? In this article, I'll explain why it is important you know how well your website ranks, and give you the knowledge and free tools to run a DIY SEO health check.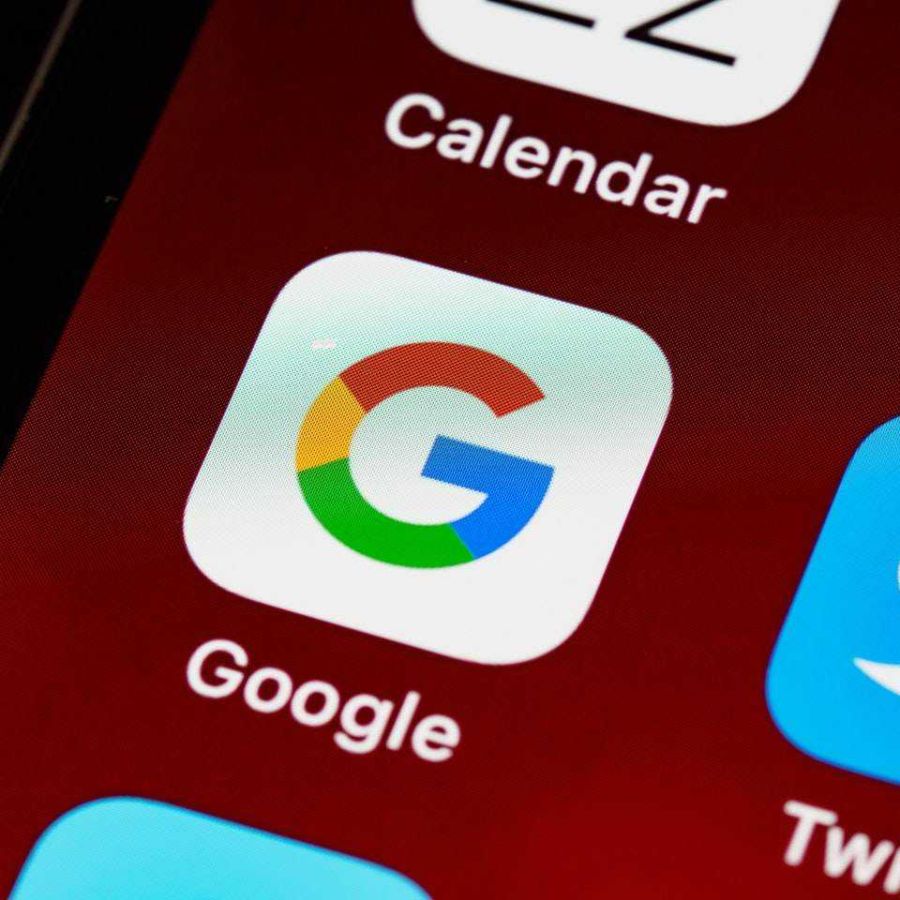 Let's talk search engines. Did you know that 68% of online experiences begin with a search engine? If you aren't appearing in organic search results, you're missing truckloads of potential website visitors, which equates to missed sales opportunities. Let's look at how you can perform a DIY SEO health check, and review how well your website is performing.

So how do you run a DIY SEO audit on your own website? Definitely NOT by just searching your business name using your usual browser. The results will give you a very skewed perception of your website performance. In this article, I will explain why that happens, and share ways you can do your own research with a DIY SEO health check.
There are three types of website owners
When it comes to search engine optimisation, there is three types of website owner.
Those who enjoy great rankings
These websites tend to get a lot of traffic, enquiries and possibly sales. It is very likely they have made a conscious effort to improve their rankings. Some are lucky enough to have just managed it without any effort, however that percentage is tiny and shrinking smaller by the day.
Those who are improving their SEO
Done well, SEO can have a huge impact on most businesses bottom lines. This segment of people is the majority, who week after week, month after month, compound their efforts to get great rankings for their websites.
Those ignoring search engines entirely
There's a percentage of people out there, who believe that search engines don't matter for their business. I hate to break it to you; this is highly unlikely. Even if you believe all your enquiries come from word of mouth or existing customers, there's a large market share out there who you could attract with a little effort.
The search engine market
Yes, it's true there are dozens of search engines getting tons of traffic, however in Australia, the playing field is definitely skewed towards one brand. Google has a whopping 94% of the Australian search engine market share, a percentage that has barely changed for a number of years.
For the purposes of this article, we will concentrate on Google.
Why keywords matter
Chances are, if you search for your own business name, you are likely to rank fairly highly for it. Assuming it is pretty unique, then there's no reason why you should rank well.
A small amount of your potential audience probably do search for your business name. Those that have heard about you already. However, what percentage of your possible market have heard of you? Unless you are Apple, Amazon or Coca-Cola, it's unlikely the majority of your potential market have heard about you.
You are better off being found on Google for keywords that you potential market searches for.
In order to do that, you need to first understand where your website currently ranks, and then look at various offsite and onsite SEO factors that you can update or improve, in order to improve your SEO.
How to run your DIY SEO health check
There are basically three simple steps to running your own DIY SEO health check. They ma
Research and choose relevant keywords
Use private/incognito browser to search
Track data in spreadsheet
Ready? Let's get into the nitty gritty of it all.
So how do you get found?
By using the right keywords. When I say the right keywords, I mean the keywords other people would use to find services or products like yours. These are not what you would search for necessarily, but rather, what your potential market searches for. We are all guilty of using industry acronyms or internal phrases; what are the words that people who do not intimately know your products or services search for?
Ok, here's a quick survey. Imagine for a moment you are looking for a place to stay in Margaret River. What phrase would you type into a search engine? The exact phrase; would it be something like "holiday Margaret River", or maybe "Margaret River house", or some other phrase?
Now, remember it or write it down, and we will now look at the actual search data.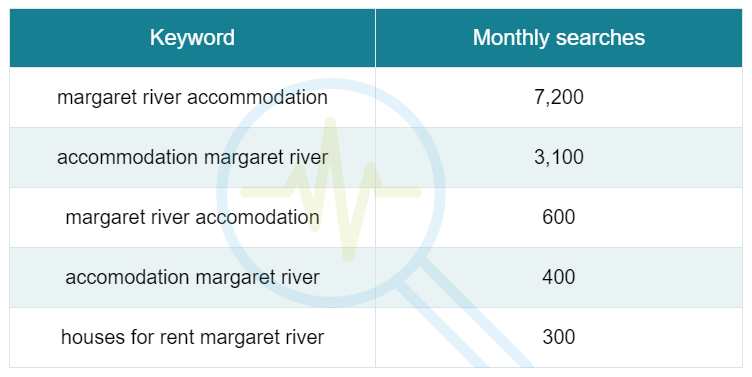 In the above table, you can see that ranking on the first page for the phrase "houses for rent margaret river" would be fantastic, with 300 people every month searching for that. However being on the first page for "Margaret river accommodation" would be 24 times better than that, with a whopping 7,200 people searching for that phrase.
If you were an accommodation provider in Margaret River, what phrase would you rather rank for?
It's also true, looking at the above statistics, that accommodation is a hard word to spell. The single M misspelling ranks highly in our list for similar phrases.
Find the right keywords
Now that you understand the importance of relevant keywords, the first step in undertaking our DIY SEO health check, is to create a list of keywords that you'd hope your website would rank for.
Start by identifying a few keywords you feel would be searched for, frequently. You can either come up with these on your own, or ask a few colleagues or family members for ideas.
Then you can visit the Ahrefs Keyword Generator for some suggestions. Make sure to change the country to Australia!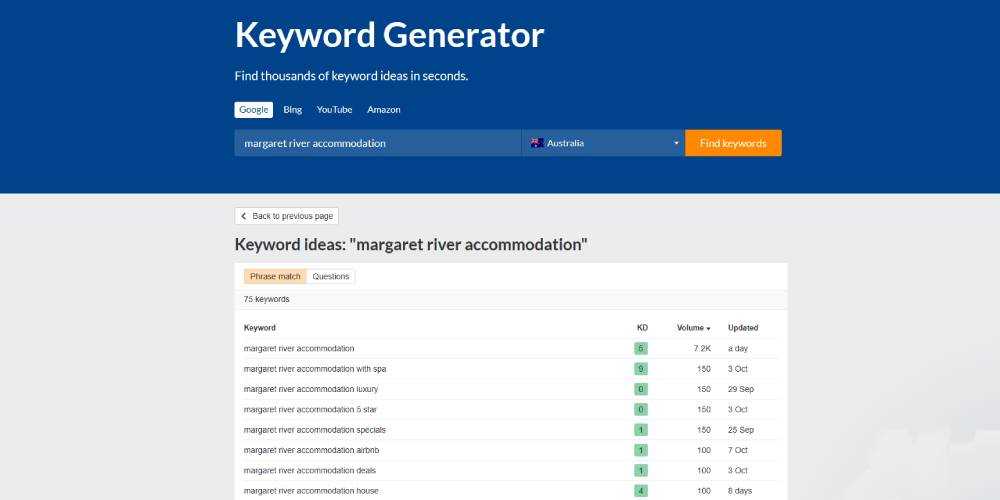 When you do a search, the resulting page will have a list of keyword ideas, and there will be three additional columns.
The first is KD, or keyword difficulty. This is a score out of 100, showing how difficult it is to rank on the first page for that keyword or phrase. The smaller the number, the easier it would be to rank for that phrase.
The next column, Volume, is also very important, because it shows how many people search for that phrase. The higher the search volume, the better for our purposes.
Lastly, they display the date in which the data on that specific keyword was last updated. Most of the data will be less than a month old, which is fine for our needs.
When assessing keywords, you should consider two main elements, that is, potential and relevancy.
Potential
In an ideal world, you should be able to find relevant keywords that have low keyword difficulty, and high search volume. When researching, you may find a keyword that is searched 10,000 times a month. You'd naturally assume you should target that, however if the keyword difficulty is high, like above 40 let's say, then maybe it is better to target 5 keywords that are searched 2,000 times each, but have a keyword difficulty score of less than 5.
It really is a balancing act, and there's no hard and fast rule about metrics to aim for here.
Relevancy
The relevance is important. Don't just choose keywords with low difficulty, if they aren't relevant. For example, "margaret river accommodation with spa" is not useful to you, if your accommodation doesn't have a spa. All that does it upset web visitors, and won't help get enquiries.
There is a train of thought that complementary keywords do work though. So in this case, "margaret river activities" may suit, as well as "hotels margaret river".
Reviewing your own website
Now that you are looking through these various keywords, you should create a simple spreadsheet, and start to populate it with your chosen keywords or phrases. You can use Google Sheets, Microsoft Excel, whatever software you are comfortable with.
What you will do in our next step, is start populating this sheet with your actual position numbers, and the date you checked, as shown in the image below. That way, you can see if your ranking is improving, staying the same, or getting worse, month by month.

How to check your rankings
You can't just search Google normally, to find where your website ranks. The reason for this, is that Google personalises their search results for you. That means if you and I both searched for 'holiday homes Margaret river' for example, that we may actually see different websites in the results.
What we need to do, is use private or incognito mode, to check Google search results for your website.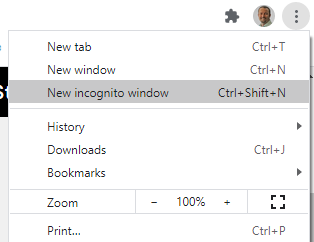 If you use Chrome browser, click on the top right corner, where the three dots appear. Then choose "New incognito window". If you use Safari, go to the File menu, and choose "New private window".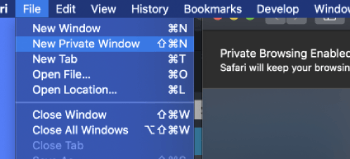 In this new window, type www.google.com.au into the address bar. Bingo! You now have a vanilla non-personalised version of Google to search the keywords you have listed in the previous step.
When you do start looking, remember also that there are advertisements, so don't include them in your position count. If your website appears on the second page, halfway down, then that would be 15th place. Write a 15 in the column under today's date for that keyword or phrase.
Don't go past say 5-10 pages. If your website does not appear in the first 10 pages for that keyword, just mark it as not found. It is very unlikely people are clicking on it, if it appears after there, anyway.
How to see what keywords currently bring traffic
The easiest way to see what keywords are bring you website visitors at the moment, is to look in your Google My Business account, assuming you have set it up. If you haven't yet, read our article on setting up your account on Google My Business.
The main menu, on the left hand side, includes a link to an Insights screen, which gives you lots of informative metrics and stats, including the keywords that have been clicked on to reach your website.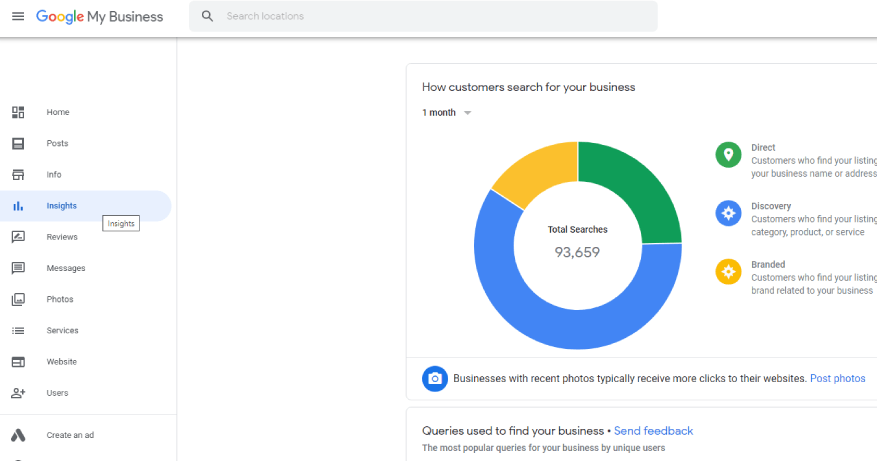 The text goes here
Looking in Google Analytics for more information
The next tool I want to quickly mention is Google Analytics. Using this, you can find all sorts of interesting data points as well, such as what pages people arrive at first on your website. As we know, it's not always the homepage that gets new visitors. For example, one website we manage, the homepage only received 1% of new visitors. The internal pages rank better than the front page.
Read our article on Important Metrics in Google Analytics for more on other metrics to look at.
In Summary
Using the steps above, you can quickly get in the habit of doing a DIY SEO health check of your website once a month or more.
Simply follow the second and third steps as mentioned above, being;

Use private/incognito browser to search

Track data in spreadsheet
When you have a few months of data collected, you can then determine an SEO strategy to improve your ranking and get more visitors to convert to enquiries or sales. Let us know if we can help in any way, and all the best of luck!