Content Marketing
Content is (still) king
Engage and retain a defined audience with valuable, shareable content that reaches your prospects and customers using blogs, podcasts, video and social media.
Content marketing is what takes a moderately-performing website and transforms it into a strong, authoritative presence online. Content allows you to hold top search rankings across multiple high-value keywords and phrases.
We'll be honest with you – content marketing isn't for the faint of heart. It requires a lot of work and a lot of patience, but it can also be one of the most rewarding exercises for a company in gaining online traction. Content marketing is a long-lasting tool in the digital marketing arsenal that allows you to connect with your audience at various stages of the buyer's journey.
Often, it's easy to shy away from adopting content marketing, as it can seem like an unnecessary and exhausting exercise. However, the impact that content can have your company's online presence and search engine rankings can be extensive.
The best way to assess the success of your content marketing is to look at data that shows how your implementation of a strategy to establish you

How does it work?
Content marketing involves creating content using different mediums and platforms to deliver the right message, at the right time, to the right audience.
Ultimately, you want to create content that your readers, listeners or viewers will want to share and that will encourage them to subscribe to and engage with your content. This, in turn, builds your business' reputation online.

What can Content Marketing do for you?
Content marketing can:
Increase your brand's visibility on various social media platforms and publications to improve brand awareness.
Grow your website's visibility in search engine rankings.
Connect with your audience by creating targeted content, specifically catering to their stage in the buyer's cycle.
Increase the potential for leads.
An increase in site traffic for Exactus Homes
Exactus Homes were looking to revamp their site content to appeal to DIY renovators as well as people who want to extend their home but don't know where to start.
A complete overhaul of their site content and structure was required and based on target market and keyword research, we created a content marketing strategy incorporating written content.
After two months of publishing the updated content, there has been an impressive change in their site traffic and conversions.
18% increase in site sessions
24% increase in site users
18% increase in organic traffic
30% increase in average time on site
Creating your Content Marketing strategy
Your Content Marketing Strategy will be created by our dedicated in-house digital marketing team, who will do a deep-dive on your business, your competitors, your target audience and your brand, all with your goals in mind.
It means that you'll have a streamlined Content Marketing Strategy, constantly working to build your audience.
Strategy elements
Depending on your requirements and your goals, your Content Marketing Strategy may include:
Comprehensive keyword and content research to determine your content plan
Competition content research to get an edge over your competition
Research on your target audience, creating a roadmap of content to create for them at different stages of the buyer cycle
Defined goals and metrics for each piece of content, allowing you to easily track content results
A defined plan for how pillars of content will be used in your strategy, using audio, visual and written content
An initial content distribution calendar that will outline platforms and types of content to be published on different platforms. This calendar will evolve over time based on data and your goals
Specifically created content for brand reputation management
Reporting results, based on your goals and objectives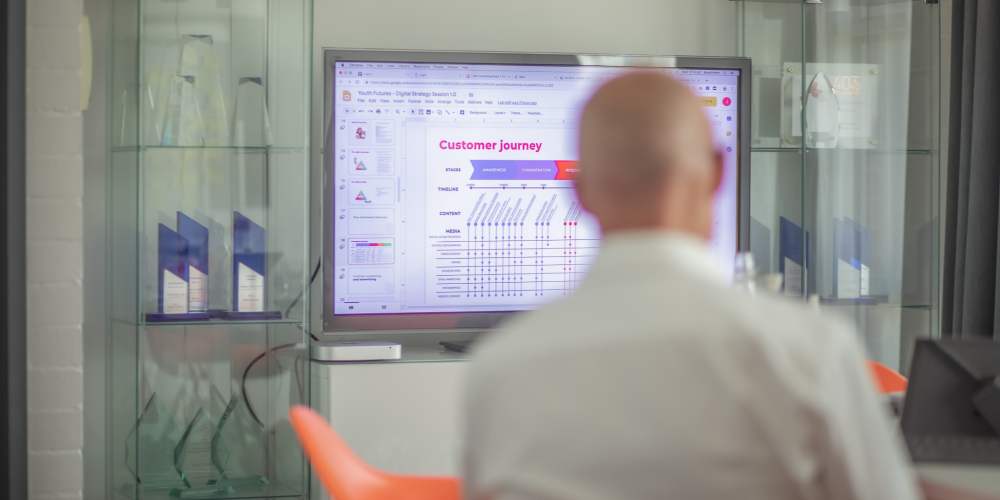 In truth, the hard part for most businesses is fighting the urge to adopt a mediocre approach because it sits nicely within an arbitrary budget. This approach has left many clients holding their heads in frustration and is not what we want for any of the businesses we work with.
The better option is to use data to validate the implementation of a strategy which positions you as an authority for your industry, not just for your keyword.

Your results
Your results will be defined from the beginning of your campaign, with your dedicated Account Manager working with you to define your goals. Those metrics will form the basis of your report, which will also incorporate recommendations to ensure that you're constantly reviewing and producing relevant and valuable content that works to builds your audience.
Your next steps
If you'd like to find out more or discuss your project, give us a call on (08) 9228 2233 or get in touch.