As an experienced shopper and web designer, I have a deep understanding of how ecommerce sites should work; not only to generate conversions but to engage the customer and to create an experience that keeps them coming back for more.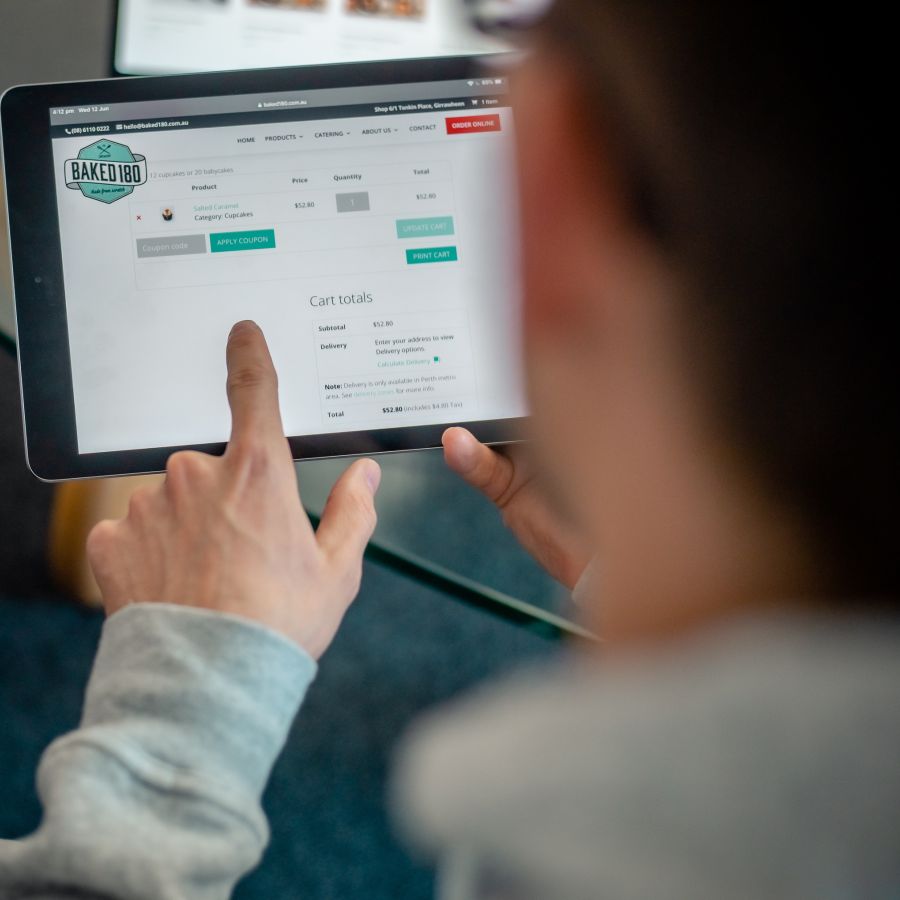 Creating an effective ecommerce solution is all about giving your customers POWER, so all they have to do purchase. If at any time you create doubt in the checkout process, you may very well kiss that sale goodbye. Designing an ecommerce store isn't just about nice fonts and colours, it is about the entire customer journey, from homepage to post-checkout.
Here are 10 tips to help you create the best ecommerce experience for your customers and encourage conversions.
Ask a Million Questions, and Answer Them.

It's completely acceptable to ask questions throughout the design process; Is there enough room for details here? Where will I put the cart so people can see it? Will people be able to understand this? Should we have a search function? Does this make sense?
Find those answers and design from there. Asking questions will help you to refine the process, to refine your design. When you stop asking questions, start again!
Design for your Customers.
Do some market research to find out who are designing for. Utilise basic design skills here and tailor them to your customer.
Content is King.
The design of your store includes everything, even down to the content. Appeal to the human needs of control and certainty and provide as much detail as you can; contact details, shipping prices, returns policy, about you, fit, colour, sizing and materials.
Adding this level of detail creates a trustworthy experience for your customer and assists them in making the right decision to suit their needs. It's also a great ecommerce SEO trick too!
Hire a Photographer
If you're a photographer, hooray! Your design should incorporate clear and consistent photography of all the products you have for sale, not just complimenting photographs in the design.
If you're selling clothes, the items should be on models of mannequins and not on a hanger; this gives the customer the power to see how the items will look on them.

Sort, Filter & Search
The sales process is never a linear one, just like walking into a store. Give your customers all the tools they need to find exactly what they're looking for. If you don't, the process may be too hard and they'll give up.
Name all items appropriately so they can be easily searched, allow customers to sort from lowest-highest price, include details such as size and colour so customers can easily filter through results.
Think about your Customer Service
Include an obvious and easy way for customers to get in touch with you and provide adequate contact details; an email and a phone number gives your customers a choice of how they wish to contact you and giving them a call centre phone number helps to reassure them that your store is run by actual people.
There are also different methods for your clients to contact you; a chat, email, contact form, phone etc. Make sure you review all options and use what is most applicable for your customers as well as your internal process.
Design for the Checkout Process
Never accept a checkout process straight out of the box. They may look neat and work well, but you need to design and tailor it to fit in with your shop. It's the key to creating consistency and an effective Cart process is important.
Eliminate number of forms to encourage the cart process. Allow for people to sign-in so they have comfort and can control their orders. Design the cart process with your customers in mind, don't just settle for out of the box.
Keep your Design Consistent
Consistency appeals to certainty, giving the user control through predictability. Make sure all elements are consistent; from titles to buttons to borders. And ensure it complements and is consistent with the brand. If the store is separate from the main website, make sure it borrows heavily from the main website to keep the user journey consistent.

Avoid Post-Checkout Stress Disorder (It's a Thing)
Have you ever purchased something and then never received an email confirmation, and wondered if they received your order or did they steal your credit card details? Or maybe you did, but it was all in plain text?
The HORROR!
Make sure to brand all email communication appropriately, and send you customer an order confirmation email. Then a shipment confirmation email. Then a Thank You email. Communication shouldn't end after the checkout process is complete, it should continue after checkout.
Encourage them to Come Back
Set up a branded cart abandonment email and send it to your customer within 20 minutes to 24 hours of them leaving an item in their cart. This can increase your conversion rate or have them back to your site and purchasing something else.
Summary
To recap, the tips are:
Ask a million questions, and answer them.
Design for your customers.
Content is King.
Hire a photographer
Sort, filter & search.
Think about your customer service
Design for the checkout process.
Keep your design consistent.
Avoid post-checkout stress disorder
Encourage them to come back
We hope that the 10 tips listed would help you create the best ecommerce experience for your customers and encourage conversions.
Good luck!