Designing your website
Creating custom-built web designs for Perth (and beyond!) businesses.
Designing your website is a lot different than it used to be when we started almost 20 years go.
There are plenty of options out there to do it yourself but if you're looking for a professional web design that puts your brand at the forefront of your competition, creating a custom web design is an investment for your business and its future.
Find out more about how we create web designs, how we help you turn your website traffic into leads and then into sales and some of our portfolio selections.

Broome Visitor Centre
A custom web design for Broome's famous visitor centre
The online booking experience was the main priority when we began planning our new Visit Broome website.


The Craft CMS foundation allowed for integration of our complex booking system, as we represent over 300 members with a wide variety of tourism products and services.

Bam Creative has really worked hard to enhance the usability, and we love knowing we can return to Bam creative to add more features.

The Broome Visitor Centre staff can easily update our website content, add new pages, update our menu structure and move content around as needed.

Our new events calendar and customised Trip Planner feature have added to the user experience and overall, the website reflects the vibrant, unique and exciting experiences Broome offers.
Ally, Broome Visitor Centre Marketing
Read more
Web Design Features
Custom-built websites
We create websites from the ground up, rather than working with pre-existing templates or designs, ensuring that you have a unique and professional online presence.
Easy to edit
Craft CMS allows us to create a website custom-built to your needs, with an easy-to-edit backend.
Fast & Secure
Craft CMS creates fast and secure websites, compared to the competition.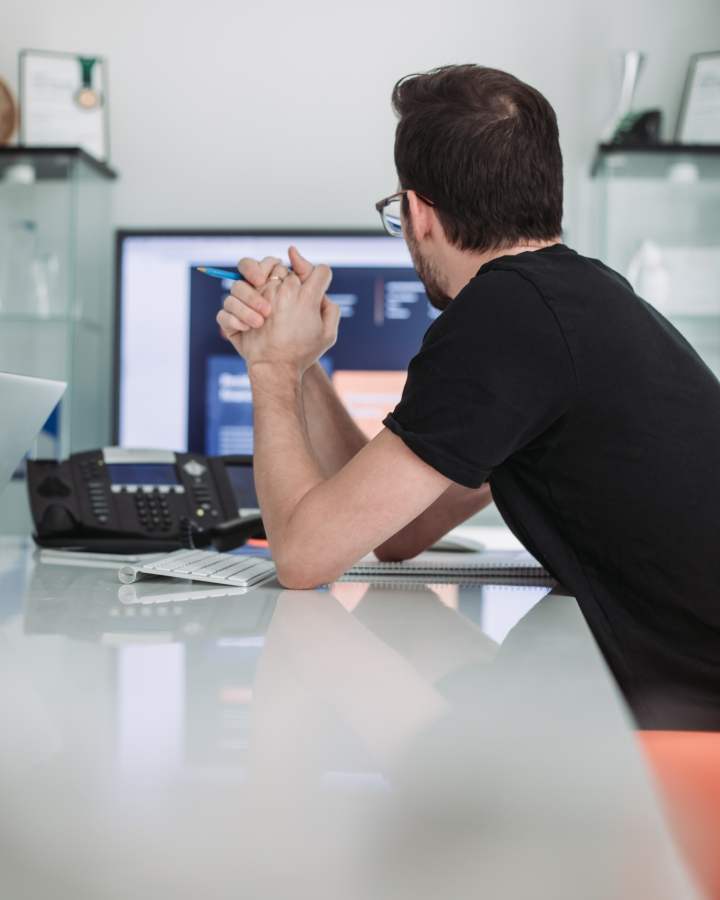 Experience true design freedom
Rather than fighting with a pre-built theme, we can create the exact site you need from scratch.
Craft CMS allows us to develop creative and custom websites, integrate with third-party API's and much more, all while retaining a simple, easy-to-use backend system.
Features
Custom web design
Built from scratch
Endless and secure integrations
Easy-to-use backend
Easily manage your website content
Bring your web design to life in Craft CMS means that we can develop your website to not only look professional, but are easy to use and maintain content.
We believe that clients should be empowered to manage their website without engaging with their agency to make changes, which could incur an additional cost. We want our clients to be able to have full control over their content and make it easy for them to manage and edit images.
When running through website training with clients, we are initially met with apprehension which quickly turns to surprise to how simple and easy-to-use Craft CMS is, in comparison to Wordpress.
Features
Editable content blocks
Easily manage and create content
On-site image cropping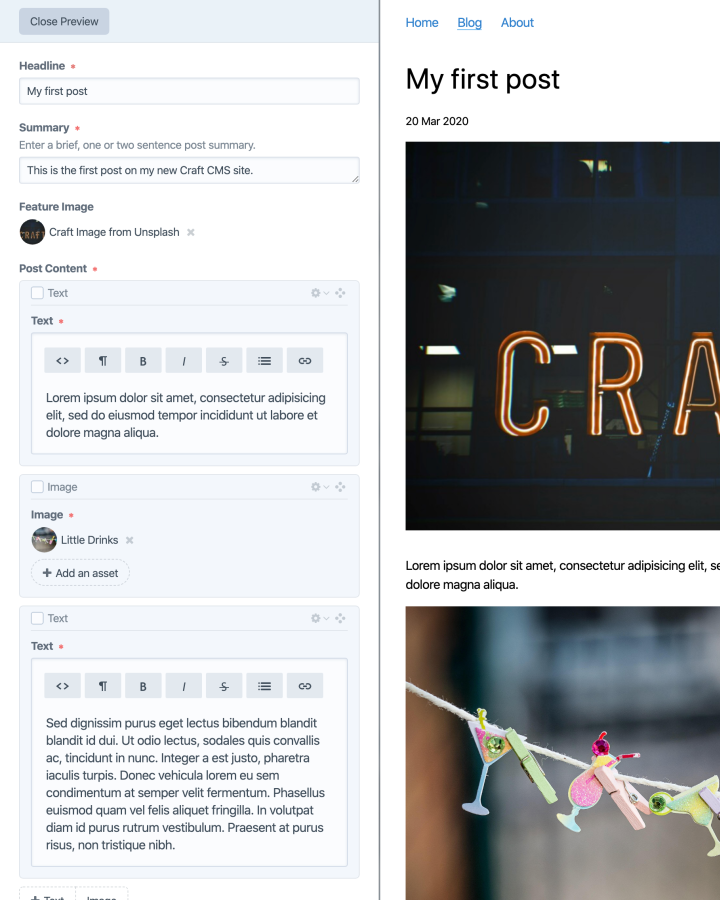 Preview your site as you create and edit content
One of the most frustrating issues a lot of our clients have had in the past is knowing how their content will look before they hit the 'Publish' button.
CraftCMS allows you to actually preview your live site as you're editing or creating site content, saving you time.

Features
Preview your changes on the live site
Edit and crop images as you work
Share your work with others using the Share button
Sell Online
Working with an out-of-the-box eCommerce solution can seem ideal at first, but it can quickly turn into a time-exhaustive task with pre-determined functionality.
Craft Commerce allows you to built the exact site you need.
Features
Rich product listings with video, images and custom fields
Manage your inventory
Easily manage sales and orders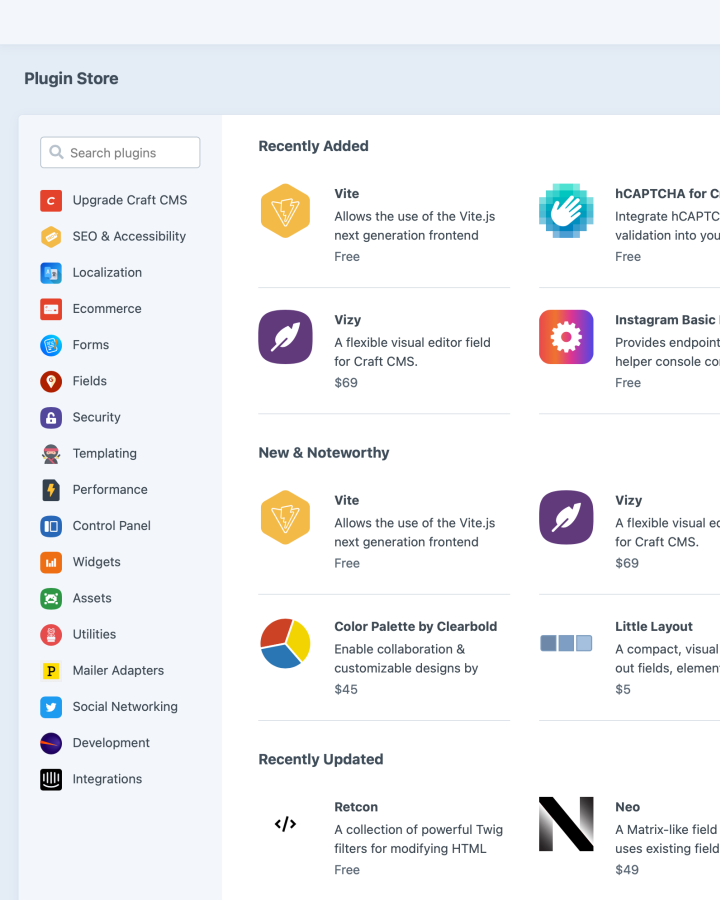 Rich Plugin Library
Extend the core functionality of your website with an extensive library of secure, easy-to-use plugins.
Popular plugins
FreeForm: allows you to create custom forms using the same editing features as a page
Afterpay: Afterpay gateway for eCommerce
Craftagram: images from your Instagram feed
Easily manage site users
Define user groups, and optionally allow public user registration, with Craft Pro.
Features
Set permissions on entire user groups or individual users
Track user website updates
Roll back updates to previous versions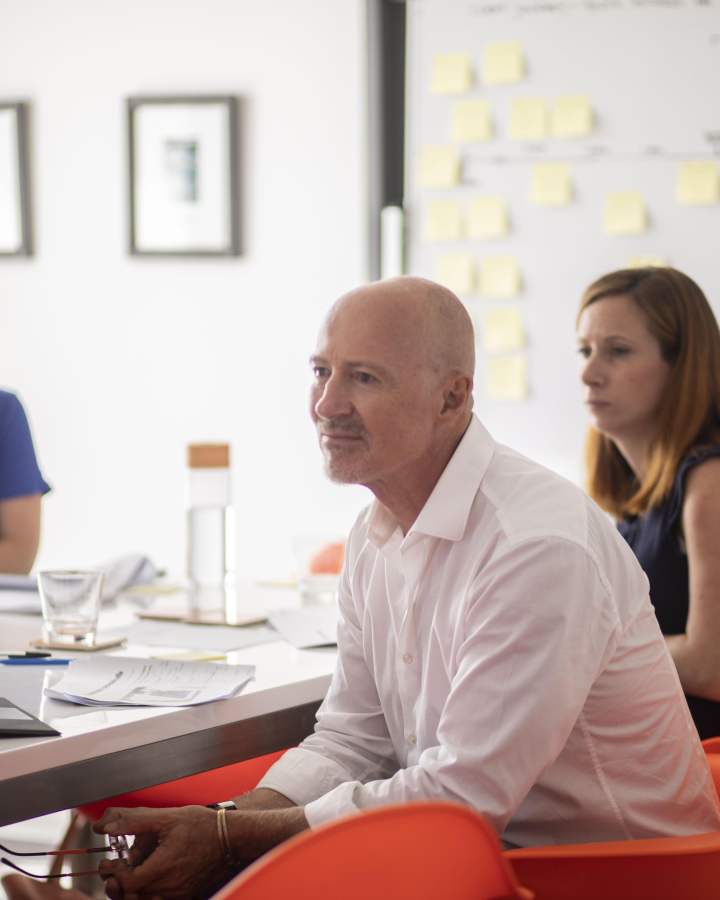 Understand your audience
Google Analytics allows us to understand how your website is being used and can be a powerful tool in understanding how and where to make site improvements to encourage more visitors.
Bam Creative sends you a customised report at the start of each month, with a comprehensive overview of your site audience for the previous month.
Features
Understand site traffic
Customised report sent to you
CMS Comparison
While we do have experience creating web designs in various Content Management Systems, we prefer to develop your website in CraftCMS for a variety of reasons; longevity, security, affordability and the ability to create the exact site you need. Read on to find out more about how Content Management Systems compare.
Wordpress
Free and open-source
Customisable designs
Multiple channels for editing
Vulnerable to security issues
Plugin vulnerability
Craft CMS
Ongoing subscription service
Customisable designs
Easy editing content blocks
In-house plugins for security
Live preview editing
Fast and secure
Dedicated support
Squarespace/Wix
Ongoing subscription service
Customisable with limitations
Live preview editing
Template-based designs
In-house plugins for security
Dedicated support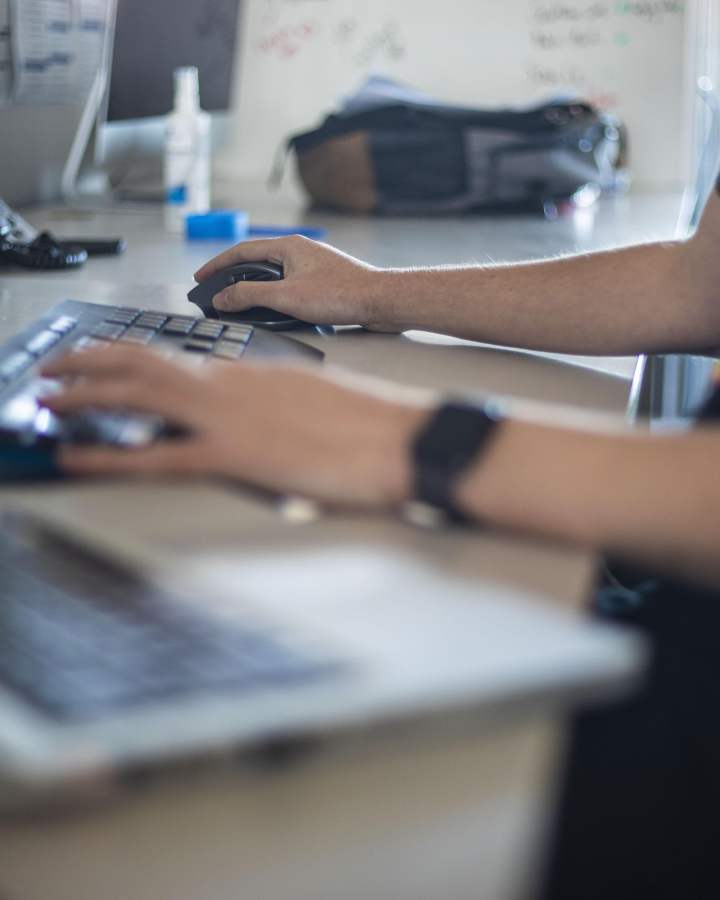 Domains, Hosting & Support
Domains
Domain management, SSL Certificates and redirects before launching your website.
Website Hosting
Our hosting includes a production site so you can work on the site before making it live.
Email Hosting
Website and Email hosting are two different products and we will always recommend a dedicated email host for you, compatible with your existing system or your preference.
Support
Hosting support is available at an ad-hoc or monthly subscription basis.
Reach your audience with digital marketing
Once your website is launched, you will want to drive traffic to the site and convert leads to sales.
We offer two ongoing marketing platforms:
Features
SEO: a site audit with monthly ongoing review and updates. Drive organic traffic to your website
Google Ads: drive traffic to your website through paid Google Ads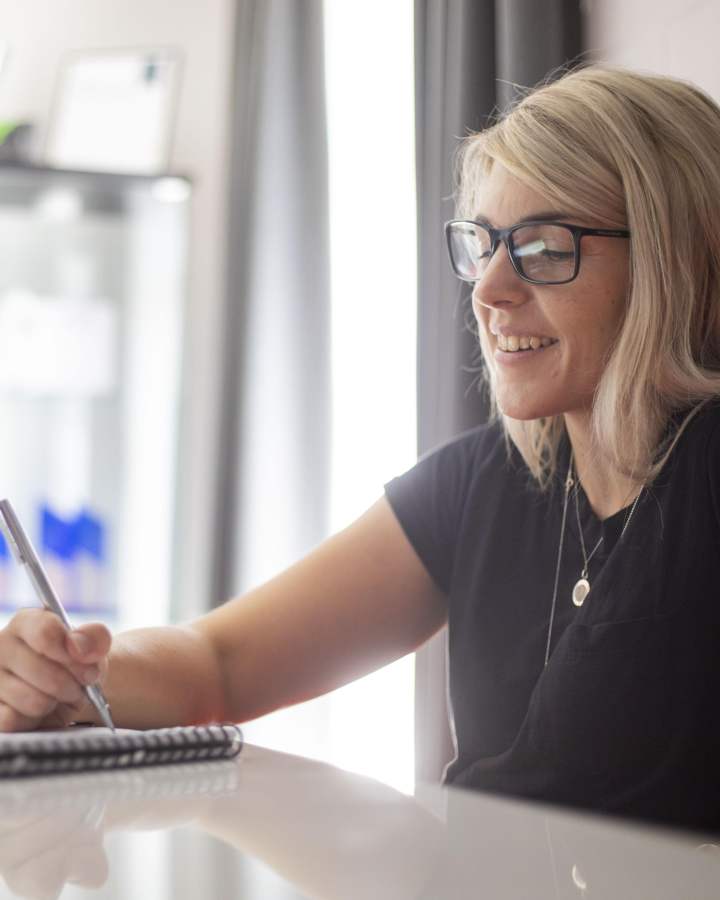 About Bam Creative
2002
Started in Perth in 2002 by Miles Burke, the creator of the Australian Web Industry Association.
Centrally located
Our team is located in the heart of Perth for your convenience.
7 Team members
Everything is created in-house, nothing is outsourced.
Get in touch with us today for further project and pricing information.
Get in touch