Part of our role as digital marketers, is to understand what devices our clients audiences are using, and the software they use to view our clients campaigns and websites. Whilst there are some great resources out there showing global usage, it's far more relevant if we're able to collate our own browser utilisation data across many of our clients websites.
Why does this matter at all? Different web browsers render pages differently; some very slightly, and others quite differently, so it is important that we ensure that our clients websites render as expected on the majority of browsers and devices used to access them.
We don't often 'geek out' on this blog, and typically avoid penning articles with a heavy technical bent, however we do have some insights into our browser data we thought we'd share. This is useful both for our clients, and the web industry as a whole, and we love to share our knowledge.
Using data from a 24 hour period in the last week, collected from over 500,000 page views across hundreds of our client websites, we're able to confidently publish details about our audience. A few things to note; all of the client sites that we host were used to gather these statistics. These organisations are across many industries, and have a wide range of target audiences, so they certainly aren't skewed by age groups or interests. Having said that, some of the client sites attract more than 100 times the traffic as other client sites. This means that those larger audience sites have a greater effect on these statistics.
Views over a 24 hour period
Here's a graph showing a typical 24 hour period, using page views. You can click on the graphic to see a larger version.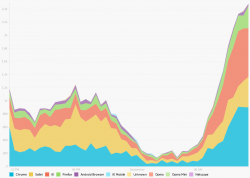 What this graph shows is web browser usage, as well as the trend per five minutes for views. As we can see, the time between 4.00-6.00am (Western Australian standard time) is our quietest, and that late morning is when the audience is largest. Typically, most of our hosted applications and websites are focused on an Australian audience, hence the large difference between 200 views in a 5 minute period at 4.00am, versus the 2,500+ views during five minutes in the late morning.
Browser usage
This table is useful for those interested in actual browser 'market share' in our audience.
Percentage wise, browsers used by our audience are;
| | |
| --- | --- |
| Chrome | 32.113% |
| Internet Explorer | 30.045% |
| Firefox | 13.745% |
| Safari | 8.199% |
| Mobile Safari | 6.617% |
| Tablet Safari | 4.063% |
| Mobile Chrome | 3.442% |
| Mobile Android | 1.545% |
| IE Mobile | 0.158% |
| Unknown | 0.036% |
| Mobile Opera | 0.036% |
What we see here, is the percentage for each main web browser. Interestingly, Google Chrome is the browser with the largest user base (32.11%), yet is one of the younger software packages, publishing their initial public release in December 2008. Mobile Opera Mini came last with 0.03% market share among our audience.
Page render time by browser
This is a contentious statistic. We'd like to disclaim that we make no breakdown by geography here. Given our servers are hosted in Australia, you'd expect that visitors from Australia get the fastest rendering time, versus visitors from Europe or the USA. Perhaps the reason these browsers are in this order is because of where the visitors were geographically located, or equally as likely, their internet access speeds.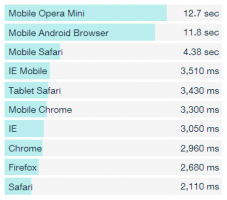 You'll notice that Mobile Opera Mini is shown as the slowest browser, yet further back, it was one of the smallest market share in our audience. It's likely this could literally be one person on very slow Internet on the edge of the Universe, well, somewhere remote at least. Let's not say that it's the browsers fault, per se.
Given the top six slowest experiences were all on mobile browsers, this is reflective of slow mobile browsing speeds, and possibly old or slow devices being used; hence the need for careful consideration of what content and design elements are served to those on mobile devices.
We trust you enjoyed these statistics and detail. Find this post interesting? Please share it with your colleagues. The more interest shown in this post, the more likely we are to run this deep analysis in the future, and publish the results here.