We recently conducted a detailed researchstudy on more than380 client websites that we host in Australia, which account for a wide variety of industries and audiences. We found that nearly 90% of their visitors were from Western Australia (which you'd expect, given most are predominantly WA focused) and ourfindings revealthat a massive 31.4% of all visitors are viewing the web on a mobile or tablet device.
That's right, close to a third of all Western Australian website visitors are using mobile phones or small tablets to visit websites.
Many companies are reluctant to update their website, or create a new one to grow with their audience due to cost or other reasons, but holding off could do more harm than good.
Responsive web design has been the standardfor years now (we wrote about this back in January 2013, over two years ago), but most websites still sadlydo not cater for smaller screen sizes. In years gonepast, this wasn't an issue due to the very low numbers of visitors viewing websites on a mobile or tablet devices, but over the last two or three years, as smart phones and tablet devices have become more widespread, visitors have more choice of which device they wish to view the web on.
Research results
As shown in the table below, 68.6% of visitors are using desktops, 31.4% of visitors are using tablets or mobile devices, and the rest are using other methods. See the figures broken down below:
Category
Operating System
Percentage of visitors
Desktop
Total: 68.59%
Windows
53.7%
Mac
13.7%
Google Chrome OS
0.875%
Linux
0.314%
Mobile & Tablet
Total: 31.33%
iPad
11.3%
iPhone
10.9%
Mobile
0.0458%
Android
9.08%
Other
Total: 0.12%
Unknown
0.0987%
Nintendo Wii
0.0176%
To put the above statistics, visually...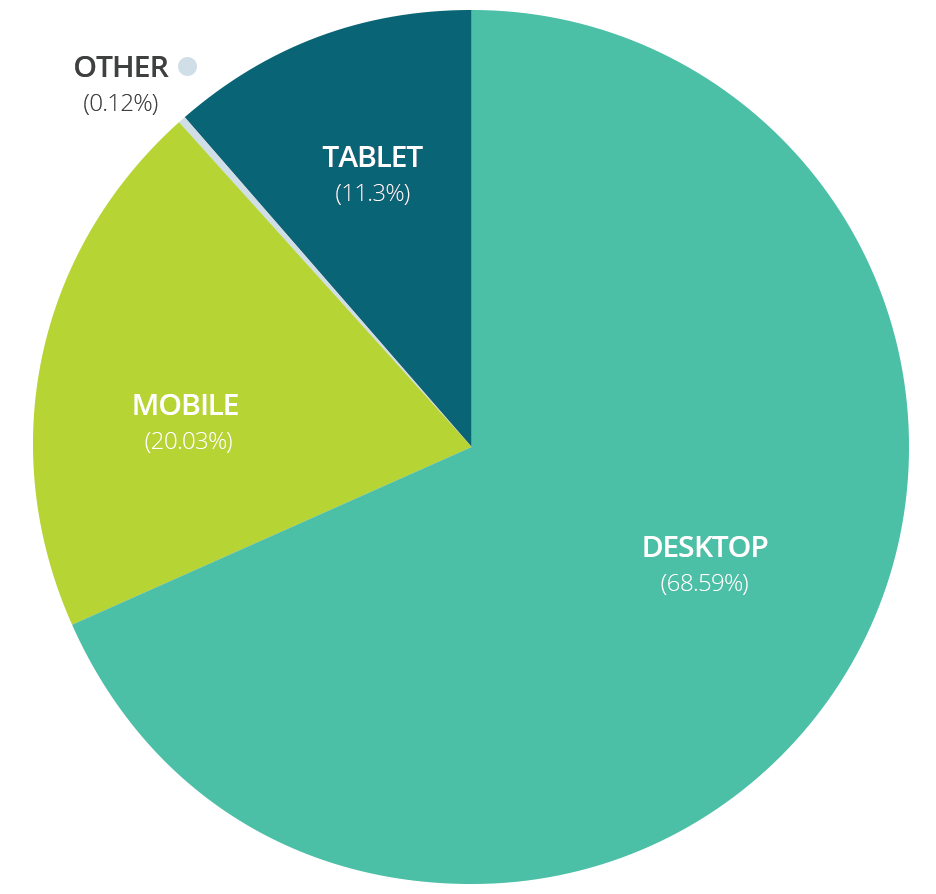 As a company, creating brand recognition and fostering relationships with your site visitors is an important goal. By having a non-responsive website, you are excluding potentially a third of your audience. If Western Australian web usersvisit yourwebsite and cannot navigate or find the information they need, it creates a bad user experience, which reflects poorly on your brand.
Browser types
Another factor that could affect how your visitors view your website is which internet browsers they use. Different browsers render websites differently, so it's important to ensure your site looks good on all (or just the most popular) browsers. The top browsers are Firefox (8.57% of visitors), Internet Explorer (19% of visitors), Safari (30% of visitors), and Chrome at the top spot with 40.1% of visitors.
Check out ourbrowser breakdown below:
| | |
| --- | --- |
| Browser | Percentage of visitors |
| Chrome | 40.1% |
| Safari | 30.0% |
| Internet Explorer | 19.0% |
| Firefox | 8.57% |
| Android | 1.86% |
| IE Mobile | 0.151% |
| Opera Mini | 0.098% |
| Opera | 0.0595% |
| Mozilla Gecko | 0.0245% |
| Other | 0.0175% |
To put these browser statistics visually...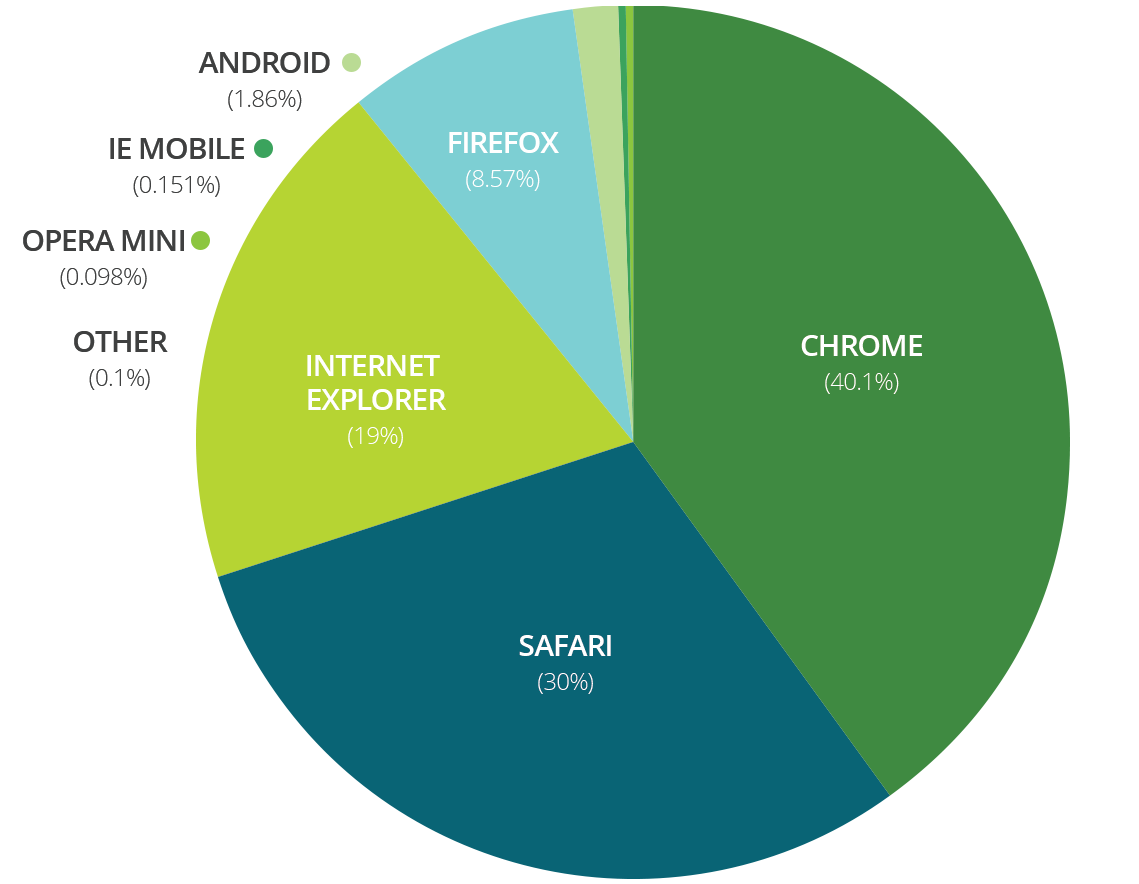 Monitoring your users and how they view your website is an important method to improve your website and increase audience engagement with your brand. Insights such as browser and device usage will help you optimise your website and ensure that the widest portions of your audience are getting the best possible online experience with your brand.
In Summary
We undertook this research using our hosting and website traffic balancing software tools, in June 2015, and used a random sampling of all website traffic across all client websites that we host over a one week period.
What this shows is that Western Australian web users on mobiles and tablets is on a rise, and already accounts for 1/3 of all website visitors. If you have a website that is not mobile friendly, you're already potentially turning away 31.7% of your potential customers.