The April changes to Google's ranking rules are already affecting many Australian websites. So what does this all mean?
Let's start by explaining 'responsive website design'. Wikipedia sums it up well, by stating
Responsive web design (RWD) is an approach to web design aimed at crafting sites to provide an optimal viewing experienceeasy reading and navigation with a minimum of resizing, panning, and scrollingacross a wide range of devices (from desktop computer monitors to mobile phones).
The case for responsive website design is large; as web surfing escapes the limits of desktop devices, and migrates to mobile and tablets and other devices, website owners need to keep providing a similar experience and content to all platforms.
For quite some time, Google, the largest traffic referrer for most Australian websites, has flagged 'mobile friendly' websites when searching on your mobile device, as shown below. Now, however, they have taken it one step further.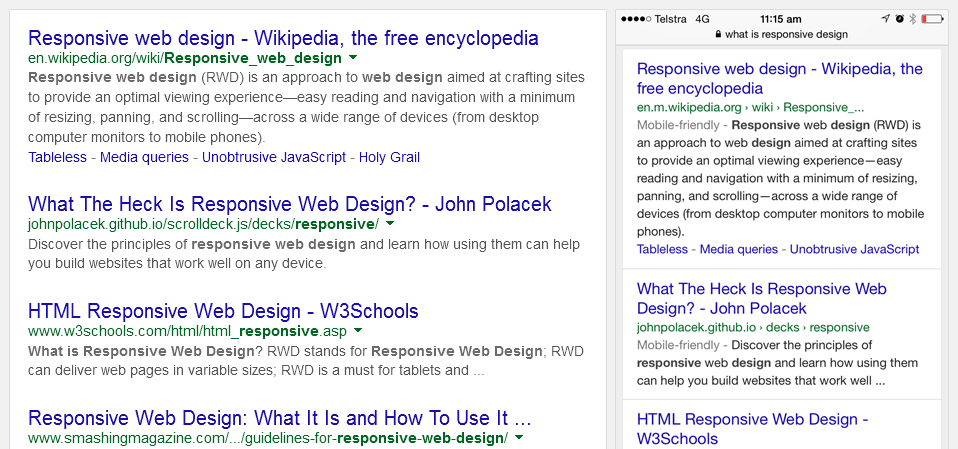 In this telling blog post by Google, they reveal that they'll be pushing for a more responsive web, and very soon. They state in their post;
Starting April 21, we will be expanding our use of mobile-friendliness as a ranking signal. This change will affect mobile searches in all languages worldwide and will have a significant impact in our search results. Consequently, users will find it easier to get relevant, high quality search results that are optimized for their devices.
This means that if you have an old non-mobile friendly website, that it will likely lose ranking on Google from this month.
So, how prepared is the Australian web space?
We reviewed the websites of the members of the ASX100. Being publicly listed large enterprises, you would expect that their digital marketing budgets far outweigh the Australian SME space, and they would be well prepared for these changes.
Sadly, only 35% of websites for these large Australian companies were responsive, meaning 65% of the ASX100 are behind in web standards.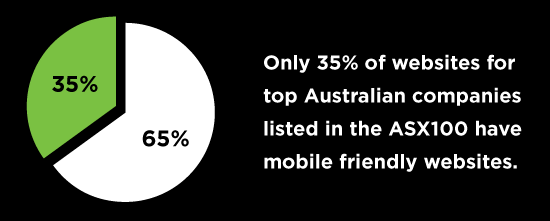 The move to a mobile-friendly web has been gradual over the last few years, and should not come as a shock to any web professional or website owner.
If you have had a website created in the last few years, you're likely not going to be impacted. Older websites, however, will find they receive less visitors from Google as a result of these algorithm changes.
We wrote about this on thisblog a few times over the last three years, such as this post from January 2014 and have been suggesting to many website owners to get ready for the large percentage of website visitors now using mobile phones to surf the web.
Google have created this handy tool for you to check your website. Simply type in your website address, and they'll let you know if Google considers it 'mobile ready' or not.
Detailed findings
Let's look at all of the members of the ASX100, and our findings from our research in early April 2015;
For a website to be mobile friendly, your website needs to display properly (although typically not the same) on the main platforms being;
Desktops
Tablets
Mobile and smart phones
Not long from now, websites are likely expected to work on other devices as well; smart watches such as the Apple Watch, other wearables and game consoles, although these are a very small percentage of website visitors at the moment.
If you have further questions, or wish to arrange a discussion about the impact this change will have on your website, then please get in touch with us.