The statistics tell the story. If a one minute video is the equivalent of 1.8 million words, according to Dr. James McQuivey of Forrester Research, a brand could really communicate a lot in that tiny amount of time.
While big brands such as Emirates,P&Gand Doveare already utilising video technology successfully, actively producing videos to communicate to their audiences, this isn't always a realistic (or an affordable) option for most businesses.
Interestingly, one of the biggest challenges for these brands is trying to engage a millennial audience who respond better to real and authentic content. How then, is this achieved with polished and professionally produced videos?
It's no wonder that Contently's recent survey revealed that 62% of millennials who participated in a recent survey felt deceived when they found out that a video was served by a brand.
For these two reasons alone, production cost and reputation impact have become the main reasons why the recent video streaming platforms are succeeding and being said to level the playing field.
With devices such as smartphones and social sharing apps providing a low cost and low entry barrier for 'anyone' to become a publisher or producer, coupled with the ease and convenience of DIY content creation, the world is ready for the likes of Meerkat and Periscope.
What do Meerkat and Periscope actually do?
Both platforms are live video streaming apps. They provide a tool for users to be able to instantly stream video to their followers. Friends and followers that are notified when a stream is commenced and can join in the session and able to interact with the feed through tools such as commenting.
The potential and possibilities are quite exciting for helping brands communicate and share information, news and more with their audience.
"Brands can forge a more personal relationship with consumers by using Periscope to give them real-time access to moments that matter, from big announcements to fashion shows to sponsored events"
- Twitter
Brands such as Red Bull, Sephora and Mountain Deware already experimenting with the technology; users are getting access to exciting things like sneak peaks to product and event launches, behind the scenes footage, conferences, announcements, competition clues, interviews and panel conversations, tutorials and more.

All of these things help brands form better relationships with their audiences by communicating the brand's personality. Live video streaming helps form these connections which otherwise would be much harder to communicate through just images or text content.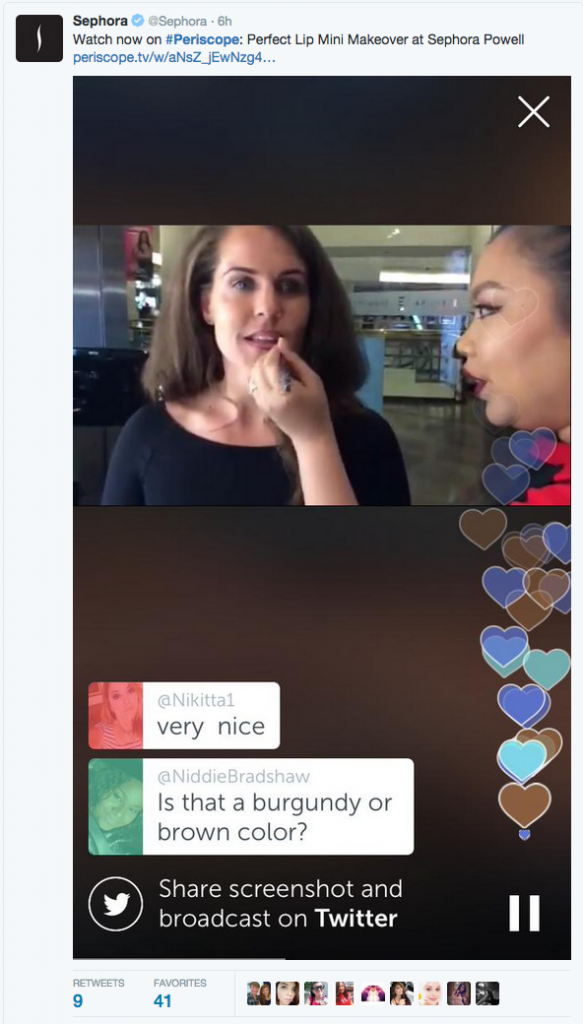 Should my business be using these platforms?
Live video streaming won't be suitable for every brand but there's definitely potential for many, particularly those who have a younger - or are targeting - a younger target audience.
Like any technology and social sharing platform, the decision should be based on who the target audience is and whether it will help the brand achieve their objectives in line with their digital strategy.
Which one to pick?
If your brand is considering using live video streaming as part of their digital strategy, there are a few pros and cons on each to consider. Both apps are still in their infancy stage though, so there is still a possibility that they may still adapt and improve in the near future as well.
Pros
Cons
Meerkat
Streams can be scheduled and promoted in advance
Slight delay on starting stream
Ability to take over a friend's stream; although, for business this may not be ideal
Less reports
Periscope
No delay on streaming
No scheduling service
Ability to save videos
Detailed reports at end of stream session
Able tostream to selected followers
With video dubbed as the future of marketing, this is a great opportunity to get creative with the platforms. By 2017, it's predicted that 69% of consumer internet traffic will be video.
Either way, perhaps it's time to dip your toes in and explore this space a little further.
Enjoy and good luck!