We've been crafting Facebook pages for a while now, and we're always interested to hear feedback from people who didn't realise they could customise the way a Facebook business page looks.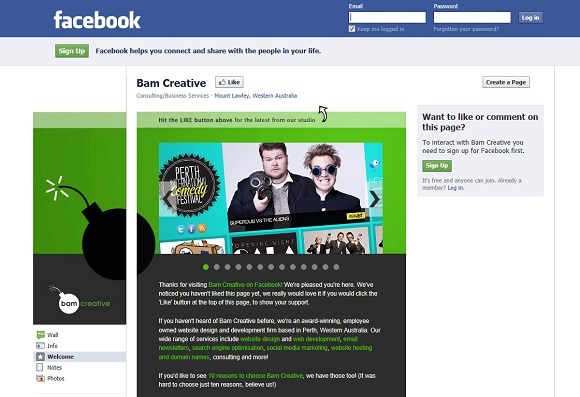 Whilst it is true that the Facebook environment is more restictive on what you can design than say, your own website, there is still plenty of opportunity to add your branding elements in a way that will complement your Facebook experience, and encourage better user engagement.
A recent success for a Facebook page we revamped saw the page likes increase by a whopping 622% in less than six weeks. That's amazing growth, and certainly a very good testament why you should have a custom designed Facebook page for your organisation.
The work goes beyond just the visual elements though. We can craft a different page for those who haven't become a fan yet, versus those who are a fan. This provides an excellent opportunity to rewards those customers who are fans of your page. A recent example was a local bakery to our office that had a voucher on their Facebook page for fans only, that gave them half price loaves of bread for one week only.
As part of an overall social media strategy, a well-designed Facebook page can increase consumer engagement, reduce marketing costs and change how you see your online marketing.
If you haven't had a custom design for your Facebook page, put that on your list of goals to accomplish in the first quarter of this new year!
See our Social Media Marketing page for more information on what we can provide.