We recently achieved a 4000% increase in Facebook likes for a community page. We'd ask the same question that you are now, "how many of these users are real and engaged users?". Great question. The answer? 96% are real users within the targeted locations and of these we're seeing 40% organic reach per post and, on average, 10% pure engagement rates.
They're not the only stats we're proud of. One particular post reached 202,624, organically, and also clocked 13,937 likes, comments and shares. That means our client didn't need to spend a single cent advertising this popular post, but their highly engaged audience spread the word for them.
"92 percent of consumers around the world say they trust earned media, such as recommendations from friends and family, above all other forms of advertising."

- Nielsen 2012
It's no wonder that word of mouth marketing (WOMM) is considered the most powerful form of marketing.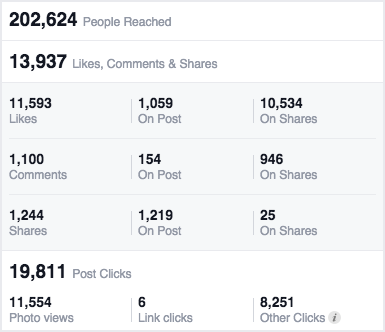 No doubt you're itching to know how we achieved such great results! Before we get to the how, we'd like to chat about the why.
Why was the Facebook page created in the first place?
Who were we targeting on behalf of our client?
What would encourage their audience to interact with them?
Why should they join this online community?
Once the objectives were defined and target audience groups confirmed, we were able to begin creating a digital strategy that would provide a clear plan and path on how to best communicate to and encourage engagement with the audience.
From there, every decision that was made - every word that was written - was mapped back to this strategy.
How then, did we achieve the results that we did, in such a short amount of time?
Although every campaign we manage has a different starting point, a different audience and different purpose, there are still processes that we've put in place to help get a plan of attack into play.
Every plan is built from the same base: finding the audience and getting to know them. Really, really well.
We followed these 12 simple, but important steps to a successful social media campaign:
Conduct the market research
Create and adhere to a consistent brand guide for longevity
Source and create quality content and supporting media
Schedule and monitor the posts
Interact with other pages as the brand
Utilise targeted paid advertisements to slowly build a user base
Analyse the data from this small user base to gain further insights into the audience
Be prepared to adapt, react and respond
Create shareable, branded media and promote
Share real content that can start conversations
Keep tweaking the variables to maximise the reach and engagement
Repeat steps 3-11.
Remember to keep working at it. If you put in the effort, Facebook can become a very effective platform for marketing your brand. Good luck!