Executive Summary
The growth in social media, mobile devices and digital marketing spend means that today, more than ever, we need to understand consumer behaviour online, and understand what audiences are adopting which platforms to make better guided decisions on digital marketing spend.
The research we have undertaken shows that Facebook penetration into Western Australian's lives is deep, with 91% of the WA population holding accounts with the social media giant. There are a number of factors discussed in this article, including the significant divide between male and female Facebook users in older age groups, with possible reasoning and cause for variations in user profiles.
Findings
Users by age group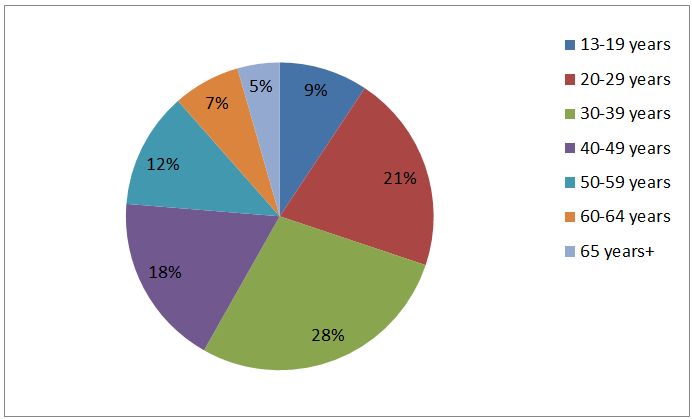 The use of Facebook as a conduit for communication and socialising online has vastly increased, with West Australians embracing this technology rapidly. Based on our findings, of the 2.210 million Facebook users in Western Australia, 30-39-year olds make up the highest percentage of all users, with a cumulative total of 28%. Followed closely are 20-29-year olds, who make up 21% of the total registered Facebook users, and 40-49-year olds in third place with 18%.
An interesting aspect that was uncovered in the findings is people aged 50-65+ years make up 33% of the total registered Facebook users, indicating far less activity in contrast to their younger counterparts.
Users by age and gender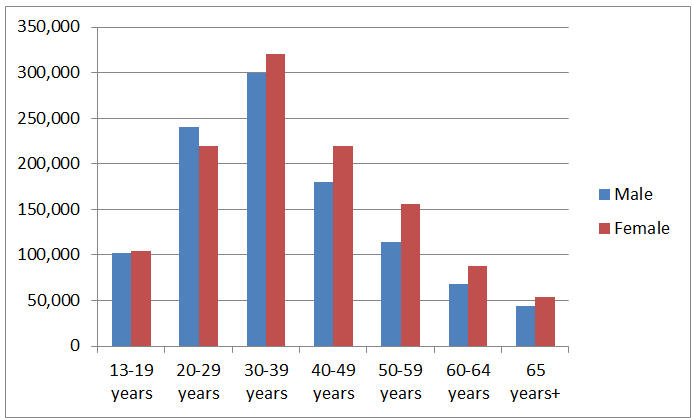 When comparing users based on gender, we discovered a number of interesting factors.
In the age group of 13-19 years, figures are virtually identical, with males making up 102,000 of the total 206,000 registered users. Females edged out their male counterparts with a total of 104,000; however the figures indicate the lowest divide between all registered users across all age groups.
Moving to the 20-29 years age group, males make up a large proportion of users compared with females, with just over 52.17% compared with 47.82%. These figures are the last time men overtake women, with females dominating all age groups from 40-65+ years. The biggest divide lies in the 40-49-years age group, with a staggering 220,000 female users compared with 180,000 male users; which equates to just over 18%.
Summary
Overall the data does raise a number of issues, which inexplicitly suggests that females are a large force on social media in Western Australia, with a large representation across all ages. The number of males with registered Facebook accounts begins to decrease from the ages 40-65+, which opens up a number of factors that might explain the decline. Given the Facebook demographics in Western Australia, there are a number of key considerations for several industries and advertisers looking to target key market segments.
Sources:
Facebook Advertising Planner (August 2013)